AT&T Foundation Awards $100,000 to Gateway Program

CONTACT: DR. LISA MCWHERTER, 646-1807
FOR IMMEDIATE RELEASE 3/27/2009
(By Lisa Garrett)
PENDLETON --- The AT&T Foundation, the philanthropic arm of the AT&T Inc., awarded Tri-County Technical College a $100,000 grant to support the Gateway to College program— an initiative that is designed to serve at-risk students and recent high school dropouts in Anderson, Oconee and Pickens counties. The purpose of Gateway to College is to serve the needs of students who have recently dropped out of high school or who have the academic capability but are struggling in a traditional high school environment.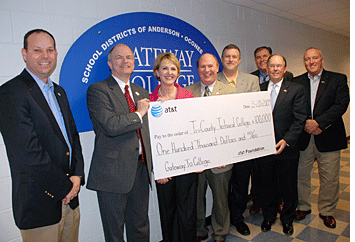 The Gateway program gives youth between the ages of 17-20 who have dropped out of high school the opportunity to earn a high school diploma while simultaneously earning college credits.

"In today's economy, it is more critical than ever before that American students are skilled, knowledgeable and ready to hit the ground running when they graduate," said Pamela P. Lackey, state president of AT&T-SC. "Our challenge is to balance the realities of today's economic environment with the needs of tomorrow's workforce. Investing in education is always a smart investment."

"AT&T is the kind of community citizen that sets an example for others," said Dr. Ronnie L. Booth, president of Tri-County. "Further, AT&T understands the important role of technology in education. Because of this gift, the students in our Gateway to College program will have access to the latest technology and communication resources for enhancing their learning. The Gateway to College program has a tremendous impact on the lives of students who have been unsuccessful in public education, often for reasons beyond their control, and this significant grant goes a long way towards assisting these students in obtaining the goal of a high school diploma while also allowing them to earn college credits at the same time," said Dr. Booth.

"This grant, then, is really a long-term investment in the lives of students in our community and ultimately, the community as a whole. We are grateful for their generosity and support," said Dr. Booth.

Specifically, grant funds will be used to purchase computers, printers, software, interactive white board systems and other classroom modifications, providing Gateway to College students with the technological tools they need to be successful at Tri-County and in the workplace.

"I'm thrilled about what this wonderful donation from AT&T will enable us to do for our students," said Diana M. Walter, director of Tri-County's Gateway to College program.

"One of our priorities will be to provide technology-based learning support for students in a variety of core academic areas, particularly in mathematics, English, sciences and economics--areas where our students have real needs. As a result, I expect we'll see higher success rates in these core courses, which will ultimately lead to higher graduation rates," she said.

"It is exciting that AT&T is committed to helping these young people get the education they need to compete in this economy," said Representative Dan Cooper, chairman of the South Carolina House Ways and Means Committee.

"Tri-County has always been innovative -- not just fitting the mold, but creating opportunities for young people so they may have a better quality of life," said State Senator Thomas Alexander. "I commend corporate partners like AT&T for their commitment to the communities they serve."

"We are fortunate to have companies like AT&T committed to philanthropy in SC, and it shows here today," added Rep. Phil Owens.