Business Technology Named Advisory Committee of the Year

CONTACT: MEG ALLAN, 646-1887
FOR IMMEDIATE RELEASE 8/20/2009
(By Lisa Garrett)
PENDLETON -- The work of Tri-County Technical College's Business Technology Advisory Committee as individuals in the community and as a group of professionals devoted to enhancing learning opportunities for students earned them the honor of advisory committee of the year.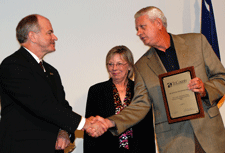 This is the eighth time the committee has received the trophy, the first time being in 1981, and later in 1984, 2000, 2003, 2004, 2005 and 2008. Business Technology Department Head Meg Allan and longtime advisory committee member John Powell accepted the trophy and plaque on behalf of the committee.

The advisory committee consists of community business leaders who meet quarterly for discussion and to provide input about keeping the Business Technology curriculum relevant to today's ever-changing work environment.

"They are a devoted group of professionals who are excited about making a difference in the lives of our students, said Allan in her nomination.

Members take an active role in the development of the students' interpersonal skills, as well as their academic achievements, by sponsoring workshops, such as this year's seminar titled "Jumpstart your Careers," led by Todd R. Mitchell CPA, MBA and former managing shareholder, Elliott Davis, LLC.

"These seminars provide students with winning strategies that set individuals apart in the business environment," said Allan.

"Committee members constantly strive to offer our students valuable learning opportunities. This is a working committee whose members volunteer to speak in classrooms, sponsor interns and promote the College through the community," said Allan.

"This group recognizes the positive impact of the committee and willingly volunteers their time. They can share stories with students and serve as positive role models. The participation of committee members ensures that our Accounting, Administrative Office Technology and Management majors truly are prepared to enter or re-enter the workplace with successful results," said Allan.