Officials Break Ground on Academic Support Facility for Bridge to Clemson Students

FOR IMMEDIATE RELEASE 2/27/2009
(By Lisa Garrett)
CLEMSON --- "This is a great example of the public and private sectors working together," Tri-County Technical College President Ronnie Booth said as officials from Tri-County and Clemson University, along with developers, broke ground on an Academic Support Facility for Bridge to Clemson students February 27.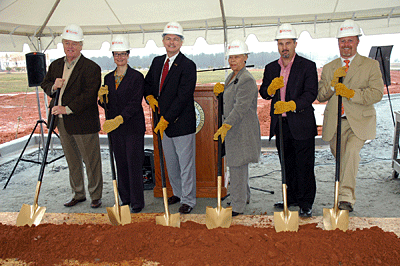 The 8,664-square-foot facility, located at Highpointe of Clemson on Old Cherry Road, will house small classrooms for tutoring, meeting spaces, and offices for Bridge to Clemson staff. The Bridge to Clemson program is a collaborative initiative between Tri-County and Clemson University that blends University Transfer classes at Tri-County with Clemson campus life. It is specifically designed for recent high school graduates who narrowly missed admission to Clemson because of limited space and high demand.

A first of its kind in South Carolina, this invitation-only program blends the traditional academic experience at Tri-County with the social and cultural experiences of being a Clemson University student.

It offers select Tri-County students a university experience and seamless transition to Clemson for the sophomore year. Bridge students must earn 30 transfer credits at Tri-County during their two semesters and transfer to Clemson with a 2.5 GPA. They will live at the Highpointe of Clemson and may use the transit service to travel between Highpointe and Tri-County when classes are scheduled.

"We are better because of our relationship with Clemson University and vice versa," said Dr. Booth. "This is a good time to find ways to do things together. I appreciate Tom Winkopp (realtor/developer) and his work to make this happen." The Academic Learning Facility is privately funded and located within the Highpointe community where the Bridge to Clemson students will be housed beginning fall semester. Part of the Bridge to Clemson program fee structure includes a fee payable directly to Highpointe for use of the facility.

Dr. Booth added that a dedicated living/learning facility is important because is an opportunity to give students the support they need. "It's a place to build a sense of community. I thank you for helping Tri-County be a role model college."

"I'm very proud of this partnership," added Helen Rosemond-Saunders, chair of Tri-County's Commission.

"The Bridge program makes a Clemson University education more accessible to our citizens. It's an affordable alternative route to entering Clemson," said Dr. Jan Murdoch, dean of undergraduate studies at Clemson.

Dr. Murdoch said there were 234 in the first Bridge class in 2006, there are over 300 this year and 450 expected for fall. 90 percent of them are SC residents.

The goal is to transfer 70 percent to Clemson University. In the first class in fall term 2006, 164 or 71 percent transferred to CU and the following fall, an additional 12 students were eligible to transfer later that academic year, for a total of 76 percent. Others chose to remain at Tri-County. Bridge students who entered Clemson in fall 2007 had a collective first-term GPA of 2.59 as compared to a collective first-term GPA of regular transfer students (2.46).

Winkopp said the project will be ready by summer.