George Acker Appointed to Tri-County Commission

FOR IMMEDIATE RELEASE 9/22/2009

CONTACT: LISA GARRETT, 646-1506
(By Lisa Garrett)
PENDLETON --- George Acker, Duke Energy's southern region director for government and community relations, has been appointed to the Tri-County Technical College Commission, the governing board of the College.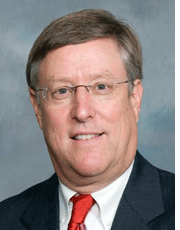 Upon the recommendation of the Pickens County Council, Governor Mark Sanford appointed Mr. Acker to the Commission. His appointment is through April 2012. He takes the seat occupied by Dr. Mendel Stewart, who stepped down this spring after 32 years on the Commission.

"All of my adult life, I have been passionately supportive of education in general, and higher education in particular. I also understand first hand, from family experience, the value that Tri-County brings to the educational experience for the citizens of Pickens, Oconee, and Anderson counties," said Mr. Acker, who has been with Duke Energy since 1981 and has held positions in Greenville, Anderson, Columbia, and Spartanburg, in addition to Charlotte, NC.

"In today's changing economy, advanced and enhanced education is the building block for success for our citizens. My service on the Commission of Tri-County Technical College is nothing more than an acknowledgment of my core belief that all of us need to become better educated in order to compete and be successful in a world economy."

His professional and civic affiliations include serving as a board member for Cannon Memorial Hospital, the Metropolitan Arts Council in Greenville and the Clemson Research Foundation. He is a member of the Spartanburg Rotary Club and the Spartanburg Chamber Economic Advisory Board, as well as the S.C. State Energy Advisory Committee.

He serves as vice chairman of Upstate Alliance and is currently active in the Spartanburg Chamber Board and the S.C. State Chamber Board.

He is former chairman of the Greenville Chamber of Commerce, Greenville Convention and Visitors Bureau and South Carolina Independent Colleges and Universities. He previously served on the boards of the Anderson Chamber of Commerce, Anderson Economic Partnership Executive Committee, the Greenville Symphony and the Better Business Bureau of the Foothills. He is past chair and president of the Pickens County United Way.

Mr. Acker is a graduate of the University of North Carolina at Chapel Hill and earned a master's degree from the University of North Carolina at Charlotte.

He and his wife, Susan, live in Pickens and have three adult children.