Converse A. Chellis, III, State Treasurer, to Deliver Tri-County Technical College's Spring Commencement Address

CONTACT: LISA GARRETT, 646-1506
FOR IMMEDIATE RELEASE 4/28/2009
(By Lisa Garrett)
PENDLETON --- Converse A. Chellis, III, state treasurer for South Carolina, will deliver Tri-County Technical College's spring commencement address Tuesday, May 12, at 6 p.m. at the Anderson Civic Center.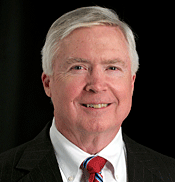 Approximately 424 students will graduate this month. In addition to families and guests of the graduates, alumni and other friends of the College are invited to attend the ceremony.

Mr. Chellis was elected State Treasurer August 3, 2007, by the South Carolina General Assembly. He brings to the State Treasurer's Office a strong financial background and a comprehensive knowledge of the State's budgetary process and financial structure of state government, as well as a commitment to protecting our state's financial assets while maximizing its investments.

Mr. Chellis was first elected to the General Assembly in 1996 and served as Representative from District 94 for eleven years. District 94 is comprised of portions of Charleston and Dorchester Counties. During his tenure in the legislature, Mr. Chellis was a member of the Labor, Commerce and Industry Committee, where he served as Chairman of the Banking and Consumer Affairs Sub-Committee and as Chairman of the Business and Commerce Sub-Committee. He also served as Chairman of the House Rules Committee.

He is a CPA and served as an officer with the firm Dixon Hughes PLLC. He served as Chairman of the State Board of Accountancy from 1990-93 and as president of the South Carolina Association of CPAs in 1985. Mr. Chellis was also a recipient of the "Outstanding Service to the Profession" award given to a CPA by the Association for Professional Service.

Mr. Chellis received a B.S. Degree from The Citadel in 1965. He served as a Captain in the United States Air Force and now lives in Summerville with his wife, Sharon. They are members of Bethany United Methodist Church and have two children, Tiffany and Converse IV, and one grandchild.