Mary Rowell Receives Adjunct Faculty Presidential Award at Tri-County Technical College

CONTACT: LISA GARRETT, 646-1506
FOR IMMEDIATE RELEASE 5/6/2009
(By Lisa Garrett)
PENDLETON --- Mary Rowell, an instructor in the Science Department at Tri-County Technical College, is the recipient of the 2009 Adjunct Faculty Presidential Award at the College.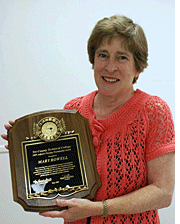 This award is given annually at the spring faculty/staff convocation to the adjunct faculty member who is recognized for excellence in teaching, who has consistently high student evaluations and who supports the philosophy and goals of the College.
Rowell has been teaching at the College since 2002 and regularly teaches 12 – 15 hours each semester. She teaches microbiology labs at both the Anderson and Pendleton campuses, helping to ensure the continuity of instruction. "She helps to transport materials from one campus to the other so labs can run efficiently," said Galen DeHay, science department head. "She does not have to do this task, but she willingly does so because she wants students to have the materials they need to be successful."
She also assists with course development for the Science Department by working with instructor David Little to revise lab manuals for biology classes. She and Little created custom-published lab manuals and worked with a textbook publishing company to get them for the students. "What is most impressive about her development of all of this is that she has done it all for free. She has willingly volunteered her time and expertise for the benefit of our students and other instructors," said DeHay.
Rowell is active in the community and for the past two years has served on the Comprehensive Health Advisory Committee for Anderson District 5. The group provides guidance for issues that are related to school and the community. She also worked with the Education Department at Clemson University as an observer for student teachers. "Mary serves in this capacity because she truly cares about all students and their educational experience," said DeHay.
She holds a B.S. in Biology from the College of Charleston and a bachelor's degree in Medical Technology and certification as a Medical Technologist (MT-ASCP) from the Medical University of South Carolina. She also holds an M.Ed. in Natural Science from Clemson University. She and her husband, Jake, live in Anderson.