Clint Wright is New Menís Golf Coach at Tri-County

CONTACT: CLINT WRIGHT, E-MAIL: clintgolf001@yahoo.com
FOR IMMEDIATE RELEASE 6/26/2009
(By Lisa Garrett)
PENDLETON --- With new recruits in place and the team's growing reputation as a contender across the Southeast, Clint Wright says he couldn't ask for a better situation as the new men's golf coach at Tri-County Technical College.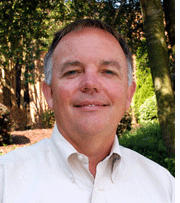 Wright, who since 1983 has owned and operated Woodhaven Golf Course in Pendleton, accepted the head coach position in May. He replaces Doug Allen, who served as coach since the team's inception in 2005 but stepped down to resume his full-time duties as Industrial Technology department head at the College.

Since 2005, Tri-County's athletic programs (men's golf and soccer) have gained visibility and momentum. After four years of competing at the club level in NJCAA's Region X, in 2007 the College's Commission voted to allow Tri-County sports teams to be NJCAA Division I varsity teams.
This past season, the golf team placed third in the Region X tournament, and TCTC golfer Nick Williams shot 76-76-75 and finished third in the Region X year-end golf tournament to earn All-Region honors. His strong showing in this tournament also earned Williams All-District honors, which recognizes the top NJCAA players from the Carolinas, Georgia, Florida, Alabama and Mississippi.

"Doug did a wonderful job getting the program started," said Wright. "He recruited the new players this year and has gotten the team to a point where my job is easier. I want to move the team forward on the competitive level and to increase its identity in the community," said Wright, who served as golf coach at Anderson College from 1986 – 1990. During that time, Anderson competed in the national championship every year, won the regional tournament three out of four years and won the conference all four years. Wright was named regional coach of the year three years in a row. He holds marketing and professional golf management degrees from Ferris University in Michigan.

"Our incoming players are all either number one or number two on their high school teams, and they are playing in summer tournaments. My role is to polish their skills as a person and as a golfer. We want them to be good students, as well as good golfers, and to move on and play competitively as long as they can. Our goal is to get to the national championship this season. My overall goal is to remain a positive part of Tri-County Technical College," Wright said.

"I will try to expand the golf program into the community base as best we can. I want the community and the College to know these student-athletes. I want the program to continue to be important to the College. The College should be proud of what Doug has put into place – a program with the greatest integrity and a positive momentum. I couldn't ask for a better situation. I want us to carry the banner across the Southeast for Tri-County Technical College."

Wright knows firsthand the value of playing golf at the community college level. When he was a student at Brevard Community College in Florida for a year, he was a member of the golf team. "Athletics holds the same value as any other student activity on campus. Players learn leadership and character-building skills, as well as being a part of the group and team building," he said.

"Tri-County fits the model for having a successful golf program with its small college atmosphere, affordable tuition, academic standards and personalized instruction. We have great recruits, a great reputation and a community that is receptive to our golf program. What more could you ask for?"

"We're pleased to have Clint join us as head coach for men's golf," said Vinson Burdette, dean of student development at Tri-County. "Clint's experience in coaching and his interest in helping student-athletes develop their potential in academics and athletics fit nicely with the goals of our program. Clint will be instrumental in helping us continue to expand the effective golf program that Doug Allen established."