Gateway Grad Proves to Her Family and Herself She Can Be Successful

CONTACT: LISA GARRETT, 646-1506
FOR IMMEDIATE RELEASE 5/6/2009
(By Lisa Garrett)
PENDLETON --- Tears well up in Brittany Worley's eyes every time she talks about crossing the stage and receiving her high school diploma tonight.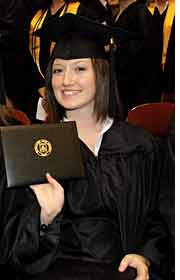 "It's an amazing feeling. I'll probably cry the whole day, but they will be happy tears," said Worley, who is receiving her high school diploma through Tri-County Technical College's Gateway to College Program and Anderson School District Four.

"Graduation means more than the world to me. I proved to my family and to myself that I can be successful," said the 18-year-old Townville resident.

The Gateway to College initiative serves high school dropouts age 17 – 20 who qualify for this unique program and live in Anderson, Oconee and Pickens counties. The program enables students to earn a high school diploma (awarded by participating area high schools) while achieving college success. Students earn both high school and college credit, up to and including an associate degree, awarded by Tri-County Technical College.

The Gateway to College program is made possible by funding from participating local high schools and Tri-County Technical College, as well as the South Carolina Lottery Tuition Assistance program, the College's Foundation, WorkLink/WIA Youth Services funding and several other grants.
Worley was accepted into the program in 2007 after dropping out of high school in the 10th grade.

"Traditional high school just wasn't for me," she said. "I got involved with the wrong crowd, and I dropped out. I don't regret it, but my family sure did. They were so disappointed in me. I was the first and only one in our family to drop out of high school," she said.

She says an advisor told her about the Gateway program and she applied, not really expecting much. "I never wanted to go to college. I had no career plan back then. But Gateway has drastically changed my life. From my first semester here, I loved it and school. I was super motivated from day one because I wasn't treated like a kid. The instructors didn't hold my hand, and I realized that I was smarter than I thought I was. I really fit in here and there's no teen peer pressure," she said.

"It's the best program I've seen. It helps people like me to get focused," she added. "It was a chance to get back on track in the right direction. I see now what I want and that's not a minimum wage job."
Worley says she had a personal motivation - to prove to family and to herself that she could be successful.

One of the people who influenced her is English instructor Katy Goforth. "I really look up to her a lot and can go to her and tell her what I'm feeling," says Worley, who works as a student assistant for Goforth.

Goforth says she has learned equally as much from Worley. "Brittany has taught me so much. It's easy to forget that faculty members can learn from students, and Brittany is a constant reminder of that for me," said Goforth.

She recalls their first meeting. "My first memory of Brittany was when she was in my ENG 032 class. She stood out to me because she was always the first student to help a classmate. She wanted to do well, but she also wanted those around her to do well. As a young student, she has faced obstacles that I might not ever face as an adult. I've watched her struggle with those obstacles and overcome them. Students like Brittany make it all worthwhile. I know she will continue her education and do great things. She's special, and I will never forget her."

She says Tri-County has provided more than an education – she has gained self confidence and an independence that can be used in the classroom and in life. She also has made valuable friendships for life.

"Tri-County teachers really have a heart -- they care about students. The Gateway staff and my teachers push me and have made me see that I can do it. They urge you not to give up and to push forward. The Gateway staff knows its students and if you want to talk, they stop what they are doing and listen. That means everything. They are a second family to me."

"Brittany came to the program and immediately impressed us with her dedication and drive," says Shantell Cox, resource specialist for Gateway. "There's not a person she meets whom she doesn't tell about how Gateway has transformed her life. We're very proud of her."

A self-professed shy person who cringed at speaking in public, she has honed that skill and relays her personal story to Gateway students and at other colleges. She was the first student to ever co-present (with Goforth) at a national Gateway to College conference in Texas last year.

"I'm a different person now. I still struggle with personal issues like lots of people, but I push through and stay focused on school. I know now that I would be nowhere without an education. I didn't know that when I dropped out. I love school – I never thought I would say that."

She will take a break from school this summer and hopes to work in the Gateway office as a tutor and return to Tri-County in the fall to begin her associate in Arts degree.

Her goal is to transfer to Clemson University, earn bachelor's and master's degrees in education and return to Tri-County and teach for Gateway. "My future is mapped out. I want to teach and to help students like me to accomplish their goals. It makes me feel good about myself."