Tri-County Student Takes First-Place Honor at College Speech Festival

FOR IMMEDIATE RELEASE 4/8/2008
CONTACT: GREG TONEY, 646-1364
(By Lisa Garrett)
PENDLETON --- A Tri-County Technical College student took home two awards at the 2008 South Carolina Speech and Theatre Association's annual college speech festival held at Newberry College April 5.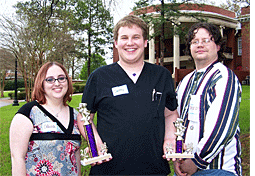 Smith Heavner, of Clemson, a second-year team member, placed first in the Storytelling category and third in the After-Dinner Speaking category.
Two other Tri-County students competed -- David Fleshman of Anderson, in the Impromptu Speaking category, and Alicia Elias, of Six Mile, in the Audition Monologue category.
College students from Tri-County Technical College, Newberry College, Claflin University, South Carolina State University, Columbia College, Lander University, Limestone College, York Technical College and Furman University competed. The categories included acting, oral interpretation and public speaking events.
"Participating on the College's speech team is not only a way to support and be active in their school," said Greg Toney, Tri-County's Speech Team coach, "but it allows students the opportunity to develop critical communications skills that will position them for greater things when they get out into the real world."