Tri-County Student Among Three National Winners in Houghton Mifflin's College Survival Scholarship Essay Contest

FOR IMMEDIATE RELEASE 6/4/2008

CONTACT: LISA GARRETT, 646-1506
(By Lisa Garrett)
PENDLETON --- Casey Kiprakis didn't recognize the number on her caller ID and thought twice about answering her cell phone one afternoon in March.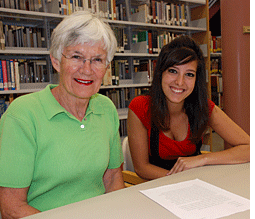 "I figured it was a telemarketer but took a chance and answered it," said the 20-year-old Tri-County Technical College student.

On the other end of the line was Jennifer Hurd, a sales rep with Houghton Mifflin Company with the news that Casey was among three national winners in the company's College Survival Scholarship Essay Contest.
Casey was overjoyed at the $1,000 scholarship prize but couldn't believe it when Hurd told her a four-day trip to Hawaii (June 17 – 21) was part of the prize package. Tri-County Math instructor Sue Dickerson, who submitted the essay for the contest, will accompany her. "I'm thrilled for her," said Dickerson, who chose the paper from a batch of her College Skills students' final exam assignments. The topic was "How Do You Define Success.?"

"We chose Casey's essay because it had a particular flavor to it," said Dickerson. "She spoke of life experiences as a native of Greece who moved to the U.S. as a non-English speaking student and how she acclimated herself to her new environment. Today she carries enormous responsibility with work and course loads, and she is a very good example of success in progress."

"I never win anything -- not even board games," said an overjoyed Casey, adding the award is even more meaningful because she spent the first 10 years of her life trying to master the English language.

"That's what so great about this award – the fact that I -- someone who struggled with English -- won an writing award. Mastering the English language is my one true success," said Casey, who lives in Central.

She and her family moved to New Jersey when she was four. "It was hard at first being a child from another country not knowing how to speak English and play with other kids. We would sit down for hours and turn the TV on just to try to see if we could recognize any of the words the people would be saying," she wrote in her essay.
"Making friends was really hard. I felt alienated," she said. It wasn't until middle school that she felt she was living a normal life and was speaking English fluently. "I used to sit down and ask my mother how I could fit in with everyone else and not feel so different. She would always tell me you don't need to try and be someone you are not. You are Greek and you should be proud. She was right.

"From the moment I was brought into this country, it has felt like I have only been surrounded by hardships and obstacles, but from a young age I have defeated and overcome them and to me that feeling of achievement is the definition of success. When I sat down to begin the assignment, I decided to make it personal. I've been through a lot, and I'm proud of my experiences."

During her last year at Summerville High School, she applied to the fashion college in New York City. Her twin sister applied to Penn State. Both were accepted. "I knew our parents couldn't afford both," said Casey, who selflessly stepped aside to allow her sister to go to college and study medicine. "I knew it was the right thing," she said.
Her best friend was a student in the Bridge program at Tri-County so she decided to move to the area and enroll at Tri-County. "I work so much – 30 – 40 hours a week -- and I have so much on my plate. This is the best choice for me." She plans to transfer to a four-year university and study International Business.