Scott Webber Receives Tri-County's Distinguished Alumni Award

FOR IMMEDIATE RELEASE 5/19/2008
CONTACT: SCOTT WEBBER, 261-5004
(By Lisa Garrett)
PENDLETON --- There's a wise old saying that Scott Webber learned from former Tri-County Technical College instructor Guy York that he still uses today. "I'll never forget it – or him," said Webber. "It goes, 'Everybody has 24 hours in the day. It's up to you how you choose to use them.'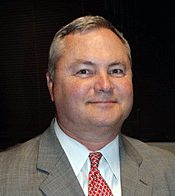 "I've used it on my kids and my employees. It's true for virtually everything you do in life," said Webber, who is Wachovia Bank's Senior Vice President/Market President for Anderson County.
The 1979 alumnus of the Industrial Electronics Technology Department (IET), formerly led by York, fondly remembers his days as a student in the 1970's. He especially appreciates York, who retired in 1989.
"He was a mentor and a friend. It's not often you know your teacher's dog's name. I'm blessed that our paths crossed."
Webber recently was honored with Tri-County Technical College's Distinguished Alumni Award highlighting his dedication to his alma mater. The presentation was made at the College's spring commencement May 15.
The recipient of this award must have been awarded a degree, diploma or certificate from Tri-County; must have graduated at least one year ago; and must have made significant contributions to the College, the Alumni Association or the community.
"I'm tickled to death," said Webber, who was elected the Alumni Association's first treasurer when the organization was established in 1985. "It gives me a real sense of satisfaction. When I look back on my days as a student at Tri-County, never in my wildest imagination would I have believed I would receive an award like this."
Webber entered Tri-County in the late 1970's after a year at Clemson University. "I wanted to be an architect. It was all I dreamed about. But that plan soon evaporated. I was wandering. I had no clue. A good friend of mine, who was in the IET curriculum at Tri-County, told me about the College. I went in, checked into it and signed up."
He immediately felt at home. "The people I met had a focus. They were there for a specific purpose -- to get an education that would lead directly to a job. The instructors really took an interest in the students."
After graduating he and his wife of 28 years were married, and he began interviewing for jobs. He got a call about a job at South Carolina National Bank (SCN), went on the interview and was offered the job. The money, combined with the hours and the commitment to pay for additional education, were enticing so he said yes. "I still really wasn't sure what I wanted to do," he remembers. He began as an installment loan-collecting department. Two years later he was a branch manager in Greenville. "After I was named branch manager it just took off. I really found like I found my home."
That was 29 years ago.
He and his family moved to Walterboro in 1989 where he served as SCN's city executive for three years. From there he went to Aiken, when SCN merged with Wachovia, and later was in Florence where he started a private banking unit for Wachovia. " I guess I found my niche," he said.
He returned home to Anderson in 2005 on April Fool's Day, he laughs.
He reconnected with Tri-County soon after relocating to the area. "I feel I learned about transitioning from a kid to an adult at Tri-County. Most of that came from Guy York. Attending Tri-County was a life-changing experience, and I look forward to giving back to the College."
Along with remaining active with the College's Alumni Association, he serves on as board chair for Innovate Anderson (formerly Anderson County Development Partnership) and the Anderson County Meals on Wheels. He is vice chair for the Hospice of the Upstate and serves on the executive committee of the Anderson University Board of Visitors and the Development Advisory Board for AnMed Health. He is treasurer of the S.C. Vocational Rehabilitation and a member of the Anderson Chamber of Commerce and the Anderson Rotary Club.