Tri-County Instructors Ride CAT Bus to Combat Soaring Gas Prices

FOR IMMEDIATE RELEASE 5/22/2008
(By Lisa Garrett)
PENDLETON --- Soaring gas prices prompted Katy Goforth and Jennifer Beattie to begin the summer term by riding the Clemson Area Transit (CAT) bus from Anderson to Tri-County Technical College. With gas prices at nearly $4 gallon and rising daily, it's still the main reason, but they say good conversation and meeting new people every day are an added bonus to the estimated $100 they are each saving monthly.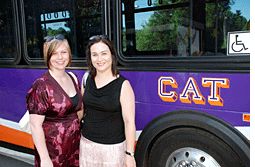 Both Anderson residents and English instructors at Tri-County, they carpool to Wal-Mart on Liberty Highway and get on the bus at 8:50 a.m. Monday – Friday and are on campus by 9:10. "Our summer teaching schedules allowed us to do this," said Goforth.
"I was spending $5 a day driving to and from the College. That's $100 a month in gas just driving to work," added Beattie.
Clemson Area Transit is a public service provided fare-free by Clemson University, the City of Clemson, the Town of Central, the Town of Pendleton, Anderson County, the South Carolina Department of Transportation and the Federal Transit Administration.
CAT buses are fare-free not only to students but also to anyone who wants to ride—community residents, faculty, staff, alumni, retirees, visitors and parents. The CAT buses run five days a week, serving students attending four area schools: Clemson University, Southern Wesleyan University, Anderson University and Tri-County Technical College.
"The bus is great. It's clean, air-conditioned and the seats are comfortable," said Beattie. "You meet new people every day, and we can get to know our students better."
"We've met some interesting people this first week. We're talking politics and gas prices," said Goforth.
"The talk on the bus is definitely current events," said Beattie.
"People are upset. They feel the crunch of gas prices and want a change," said Goforth.
But they added, conversation is optional. There are many riders who listen to their iPods or study and read.
"It's quick ride-- just the same amount of time as driving, except we're not battling traffic and paying for gas," added Beattie.
"Round trip from my house to Tri-County was 27 miles per day," said Goforth. "Now, with driving to Wal-Mart, it's eight miles round trip."
"The only big change for me is my shoes," said Goforth, laughing. "I wear flip-flops on the bus and bring my heels with me. I encourage people to join us. It isn't inconvenient, and there's air conditioning and interesting conversation."
CAT was named "2005 Best Transit System in South Carolina" by the S.C. Department of Transportation. It now serves more than 1.4 million riders a year.