Matt Simon Receives Adjunct Faculty Presidential Award at Tri-County Technical College

FOR IMMEDIATE RELEASE 5/14/2008
CONTACT: LISA GARRETT, 646-1506
(By Lisa Garrett)
PENDLETON --- Matthew Simon, an instructor in the English Department at Tri-County Technical College, is the recipient of the 2008 Adjunct Faculty Presidential Award at the College.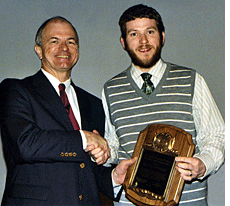 This award is given annually at the faculty/staff convocation to the adjunct faculty member who is recognized for excellence in teaching, who has consistently high student evaluations and who supports the philosophy and goals of the College.
Simon has been teaching at the College since 2005. He holds a B.A. in English from the University of South Carolina-Upstate and an M.A. in English from Clemson University.
As a member of the English Department, Matt has been one of the most versatile adjuncts, said Robin McFall, department head. "First, he is willing to step in and help whenever needed. During the both the fall semester of 2006 and the fall semester of 2007, the English Department had an instructor to quit the day before classes began. In both instances, Matt was willing to teach up to six classes to help ensure that all classes were covered and would have quality instruction."
In addition to teaching on the Pendleton campus, he has taught dual enrollment classes at both Daniel and Liberty high schools.
Simon also works as a tutor in the College's Writing Center. Pat Seawright, who supervises the Center, says Simon is an exemplary tutor and a model for others. "We are so fortunate to have a tutor of his caliber available to work with students. He carefully guides the students so that they learn and internalize what they learn. Students often rearrange their appointments according to his tutoring schedule so they can meet with him."
Simon and his wife, Pamela, have one son and live in Central.