Rick Cothran is Tri-County Technical College's New Dean of Corporate & Community Education Division

FOR IMMEDIATE RELEASE 7/22/2008

CONTACT: RICK COTHRAN, 646-1701
(By Lisa Garrett)
PENDLETON --- Piedmont resident Rick Cothran is Tri-County Technical College's new dean of the Corporate & Community Education Division. He fills a position vacated by Dr. Neil Lark, who retired earlier this year. Cothran comes to the College with 30 years of experience in marketing and manufacturing management across the State.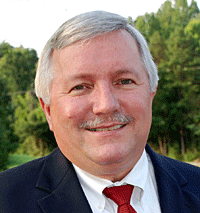 For the past six years, Cothran worked for Palmetto Pride, most recently as the organization's Director of Operations. Palmetto Pride is committed to the eradication of litter and to the beautification of South Carolina.

He joined the company as its Special Projects Coordinator in 2002 and was responsible for developing designing and implementing marketing programs, such as Prideways, Litter Buster Hotline, and Tree Grants, that met the criteria of governmental agencies operations to reduce litter.



As Vice President of Operations for Alexander Machinery, a specialty machining manufacturing facility, he led the general management of operations and directed three divisions.

From 1985 – 2000, he worked for Draper Corporation in Spartanburg, initially as Division Marketing Manager, and later as Vice President and General Manager of the company's Anderson facility, and Vice President of Marketing. He began his career at Seabrook, Inc., where he was Sales Manager and Product Development Manager.

He holds a B.A. in Interdisciplinary Studies from the University of South Carolina at Spartanburg and a master's in Business Administration from Webster University. He earned an associate degree in Business Administration from Greenville Technical College.

Cothran served as a member of the Anderson County Election Commission. He and his wife, Denise, are members of Washington Baptist Church.