Leon (Butch) Harris Appointed to Tri-County Commission

FOR IMMEDIATE RELEASE 9/29/2008


(By Lisa Garrett)
PENDLETON --- Anderson native and Timken Manufacturing Manager Leon (Butch) Harris, III has been appointed to the Tri-County Technical College Commission, the governing board of the College.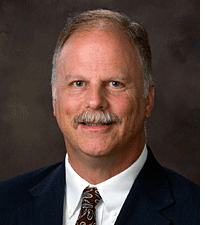 Upon the recommendation of the Anderson County Legislative Delegation, Governor Mark Sanford appointed Mr. Harris to the Commission effective this month. His appointment is through April 2011. He takes the seat occupied by Larry Miller, who ended a 21-year tenure on the Commission this spring.

"Tri-County has always been a real resource for Timken in terms of ongoing training for our associates and supplying graduates for both our Honea Path and Walhalla plants," said Mr. Harris. A longtime manufacturing executive at Timken, Mr. Harris says he is anxious to serve on Tri-County's board. "A strong manufacturing base is a critical part of the economic success of our State, and Tri-County's vitality is equally as critical to our maintaining that manufacturing competitiveness in the Upstate."

Mr. Harris began his career at Torrington (now Timken) in 1976 after earning a bachelor's degree in mechanical engineering at Clemson University and has been a Licensed Professional Engineer since 1981.

He has worked in various management capacities at plants across the state, beginning at the Clinton plant as project engineer and later engineering group leader. In 1983 he moved to the Walhalla plant as manufacturing superintendent for four years and was back in Clinton for another five years as engineering and manufacturing manager. In 1992 he was named plant manager of the Timken Honea Path plant, where he remained until last year. He spent a short time at the Canton, GA, plant as plant manger before returning to the Walhalla plant as its manufacturing manager.

His professional and civic affiliations include serving as a board member for the Anderson County Local Emergency Planning Committee and as a member of the Walhalla Rotary Club. He also is a member and past chair of the Pendleton District Workforce Investment Board and past president of the Honea Path Civitan Group. He served as a board member for the Honea Path Rescue Squad, Anderson Area Chamber of Commerce, Anderson County Vocational Rehabilitation Center and the Anderson County Business-Education Partnership.

He is past chapter chairman of the American Society for Metals, previously chaired the Laurens County Chamber of Commerce and was former campaign chair for the Laurens County United Way.

Mr. Harris and his wife, Beth, assistant principal at Whitehall Elementary School, and their daughter, Sarah, reside in Anderson.