Ron Rash to Give Preview Reading from Upcoming Novel, Serena, at Tri-County Technical College February 21

FOR IMMEDIATE RELEASE 2/6/2008
CONTACT: RON RASH (828) 227-3917
(By Lisa Garrett)
PENDLETON --- Award-winning poet and novelist Ron Rash will give a preview reading February 21 from his new book, Serena, set to be published by Harper Collins in September.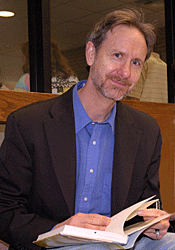 Rash also will read from his other works beginning at 7:30 p.m. in the Marshall J. Parker Auditorium. The event, sponsored by the Tri-County Cultural Enrichment Committee, is free and open to the public.
He says he's looking forward to returning to the Tri-County campus where he taught English from 1986 until 2003. "I have many dear friends at Tri-County. I look back at my 17 years there with great fondness," said Rash, who currently holds the Parris chair in Appalachian Studies at Western Carolina University and teaches Creative Writing at the University.
He is the author of three other novels, One Foot in Eden, Saints at the River and The World Made Straight, which garnered the 2006 Sir Walter Raleigh Award for Fiction.
Rash published Eureka Mill, his first book of poetry, in 1998, and a collection of short stories, The Night the New Jesus Fell to Earth and Other Stories from Cliffside North Carolina, was published in 1994. Among the Believers, a book of poetry, and Casualties, a book of short stories, were published in 2000. Other works include Chemistry and Other Stories, Raising the Dead and a children's book, The Shark's Tooth, published in 2001. .
In 2006 he received a writing fellowship from the National Endowment of the Arts. Rash was among the nation's recipients of the prestigious O. Henry Prize for short fiction for 2005 and winner of the Weatherford Award for Fiction presented by the Appalachian Studies Association and Berea College for his second novel, Saints at the River. One Foot in Eden won the 2003 Appalachian Writers Association Book of the Year Award and Foreword Magazine's Gold Medal for Best Literary Novel of 2002.
He also received the 2005 Thomas and Lillie B. Chaffin Award for Appalachian Writing, presented by Morehead State University in Kentucky. The Fellowship of Southern Writers presented Rash the James Still Award for Writing of the Appalachian South in November 2004.
He holds a B.A. in English from Gardner-Webb University and an M.A. in English from Clemson University. He and his wife, Ann, have two children.
For more information, contact Dr. Mary West at 646-1384.