Tri-County's Pharmacy Technician Program Granted Accreditation By the American Society of Health-System Pharmacists

CONTACT: JANELLE HICKS, 646-1724


FOR IMMEDIATE RELEASE 11/3/2008
(By Lisa Garrett)
PENDLETON --- Accreditation by the American Society of Health-System Pharmacists (ASHP) is the nationwide gold standard for the pharmacy industry. It includes standards for pharmacy technician education and pharmacist education. ASHP accreditation signifies that nationally endorsed standards are met in pharmacy education programs, pharmacy services and facilities.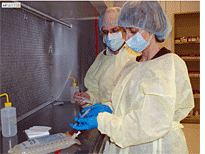 The ASHP pharmacy technician accreditation standards are geared toward preparing technicians for all practice settings and require that pharmacy technicians be educated in a variety of subjects and related laboratory exercises as they begin their experiential/clinical training in several types of practice environments

When Janelle Hicks, director for the Health Care Programs in our Corporate & Community Education Division, received her letter, stating that Tri-County had received accreditation by the agency, she immediately sent out a e-mail to her advisory board and College administration that began with two words: mission accomplished!

"It was exciting to get the official word," said Ms. Hicks, who worked for months with her advisory board, College administration and instructor Jerry Hausler, R. Ph, preparing the application and hosting the site visit by the accrediting agency. "It was hard work on everyone's part - we dotted every i and crossed every t. We were recognized as having a quality program, and we're very proud. We took very seriously our responsibility to meet their standards," she said.

After a thorough review of the report of a survey of Tri-County's program, the ASHP Commission on Credentialing voted to approve accreditation and later the ASHP Board of Directors reviewed and accepted the Commission's action at its September meeting.

The pharmacy technician is a specialist working under the direction of a licensed pharmacist. Duties are assigned by the pharmacist and are related to preparing and dispensing medication in accordance with standard procedures and laws. Duties include interpreting physician medication orders; filling orders; preparing IV solutions; maintaining controlled substance distribution; inventory control; and ordering, receiving and pricing. Duties will vary from practice site to site depending on the needs within the practice and the responsibilities delegated by the pharmacist.

Since 2001 the College has partnered with Midlands Technical College to deliver the pharmacy technician coursework via distance education and in 2007 made the decision to offer its own program. Tri-County's Pharmacy Technician Program has three modules (fall, spring, summer). The current 652-hour program has some scheduling flexibility to accommodate those currently working by offering both daytime and evening classes.

"Recognizing the need for highly trained pharmacy technicians in our area, our advisory board, consisting of hospital and retail pharmacists and pharmacy technicians, determined to pursue our own accreditation," said Ms. Hicks. "We were ready to go on our own after securing equipment and supplies to have a well-equipped laboratory for learning IV therapy preparation, compounding, community pharmacy and unit dosage. We are unique in that we have always offered alternative delivery methods and scheduling to accommodate the needs of all of our students. We made it convenient for those individuals working in the field who want to become state certified," she said. "The standards that must be reached to be a SC State certified pharmacy technician are among the highest in the country. Our goal was and is to help pharmacists obtain more highly trained technicians in this in-demand field," added Ms. Hicks.
"
We have excellent support and interest from the hospital pharmacies and the retail community pharmacies. Students obtain 252 hours of experiential/clinical rotation hours at one of our four area hospitals and choose from a large number of retail and community pharmacies. Experiential/clinical sites also can include other types of specialty pharmacies, such as the Richard M. Campbell Veterans Hospital, Patrick B. Harris Psychiatric Hospital, Hospice of the Upstate, Home Infusion and ProCare in Easley. Students do rotations at three different clinical sites, giving them exposure to different types of pharmaceutical practices. "Clinical rotation is wonderful way to prove your skills and opens opportunities for employment. In fact, most students are offered employment before graduating from the program," said Ms. Hicks.

To date, the program has graduated 100 pharmacy technicians who are working all over the tri-county area. "The need for pharmacy technicians is increasing daily. Just take a look at the new pharmacies being built at busy intersections throughout the Upstate," said Ms. Hicks. "Our society is living longer, and doctors are prescribing more medications to assist in the maintenance of chronic conditions and to address acute illness. Having qualified technicians in our pharmacies is critical to the health and safety of our citizens."

Those interested in obtaining more information about the program or joining the 2009 class should call Tri-County Technical College at 864-646-1700.