Larry Miller Receives Tri-County's Order of Merit

CONTACT: LISA GARRETT, 646-1506
FOR IMMEDIATE RELEASE 11/6/2008
(By Lisa Garrett)
PENDLETON --- Tri-County Technical College honored former Commission member and Anderson resident Lawrence B. (Larry) Miller with the Order of Merit, the highest award given by the College's nine-member Commission. The presentation was made at the College's November 5 Annual Report luncheon.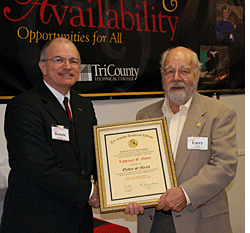 The Order of Merit is an honorary society which recognizes community and state leaders who have contributed to the development of Tri-County Technical College and the State Technical College System.
"It's nice to be recognized," said Mr. Miller upon receiving the honor from Tri-County President Ronnie Booth. "Tri-County is an institution that contributes to the success and happiness of our citizens. I encourage all of your to support this great school."

"I appreciate people who do what they say and you're one of those gentlemen," Dr. Booth said in his presentation.

Mr. Miller represented Anderson County on the governing board from 1987 - 2008 and served as secretary of the Commission from 1999 – 2006. He was a former chair of the Finance Committee and a former ex-officio member of the College's Foundation Board.

A devoted student advocate, Mr. Miller and his wife, Marge, are committed to seeing that students have access to an affordable education.

Longtime supporters of the College, the Millers made their first contributions to the College's Foundation 1987 and today are represented on the College's prestigious Wall of Honor, a distinction reserved for individuals, companies, and foundations who have contributed $50,000 – $99,000 to the College.
Mr. Miller served as manager of the Robert Bosch Corporation's Anderson plant from 1985 until his retirement in the early 1990's. In his leadership role at Bosch, he worked with the College to develop new programs, such as the apprentice program, which offers three years of academic study in machine tool technology and associated work experience at Bosch.
An accomplished artist, Mr. Miller's exhibited his artwork earlier this year during the Celtic Pops Concert performed by the Greater Anderson Musical Arts Consortium (GAMAC) in the College's library. Mr. Miller began sculpting around 1969 when he took oil painting and sculpture classes with his then-teenage son and daughter when the family was living in New York.