Commissioner Larry Miller's Sculptures on Display in Tri-County Library

FOR IMMEDIATE RELEASE 2/28/2008
(By Lisa Garrett)
PENDLETON --- Anderson resident Larry Miller recalls reading a "National Geographic" magazine article about how emperor penguins in the Arctic incubate eggs before they hatch. The female penguin transfers the egg to the top of the male penguin's feet, and she returns to the sea to feed. The male protects the egg from the elements by balancing it on his feet and covering it with his pouch.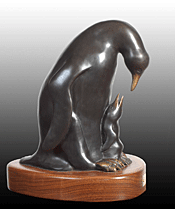 The article inspired Mr. Miller to create "Babysitter," one of several of his bronzed sculptures that are on display in Tri-County Technical College's library during the month of March.
Mr. Miller is the retired manager of the Robert Bosch Corporation in Anderson and has served on Tri-County Technical College's Commission for the last 21 years. He's also quite an accomplished artist, says Tri-County President Ronnie L. Booth, who admired the artwork during a visit to Mr. Miller's home and asked him to show it during the Celtic Pops Concert performed by the Greater Anderson Musical Arts Consortium (GAMAC) March 1 in the College's library.
Mr. Miller began sculpting around 1969 when he took oil painting and sculpture classes with his then-teenage son and daughter when the family was living in New York. In fact, his first work was of his daughter, Cheryl. His most recent work, titled "The Oracle," is of his wife, Marge, at age 20 looking into a mirror that shows her current countenance. This piece was begun 30 years ago during a vacation on Cape Cod, and recently Mr. Miller completed it.

Along with "Babysitter," other sculptures on display will be "Chief Red Cloud," a Plains Indian; "Eve and Adam;" "Judas Iscariot, the Sacred Executioner;" and "Cheryl," his daughter.
The artwork will be on display through March 31 and may be viewed during library hours Monday – Thursday, 7:45 a.m. – 10 p.m., Fridays from 7:45 a.m. – 2 p.m., and Saturdays from 9 a.m. – 1 p.m.