Mark Franks is Voice of Industrial Electronics Program

CONTACT: ROBERT ELLENBERG, 646-1410
FOR IMMEDIATE RELEASE 11/17/2008
(By Lisa Garrett)
PENDLETON --- Mark Franks is one of the first to arrive in his Industrial Electronics Technology (IET) classes at Tri-County Technical College and the last to pack up and leave every day.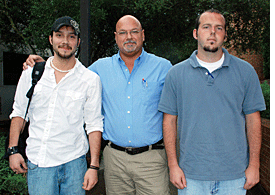 At 44, the Anderson resident says he never dreamed he would be a full-time student, mastering subjects he previously feared like math and computers. He thought he would retire from the textile industry, a career he began in high school at age 16. But after 20 years and two layoffs from two different companies, in 2007 he decided to enroll at Tri-County and give industrial electronics a shot.

"The third week of my first semester, I wanted to quit," Mark remembers. "But (IET instructor) Robert Ellenberg wouldn't let me. He said, 'I'll get you help,' and I've been going strong ever since," he added.

"But I had to learn how to study again," said Mark, who took advantage of tutoring services offered by the Industrial and Engineering Technology Division. Academic Advisor Stephanie Evans met with Mark once a week for about a month to help with his Computer Techniques class. "Mark was so eager to learn. He worked so hard during our sessions and put in extra studying at home and after class, too. He didn't just want to pass the class – he really wanted an A because he knew he would use the information again in other classes and at home."

"Mark was understandably nervous the first week or so," said Ellenberg. "But he had a good background and years of work experience. He was nervous about math and computers. He was so sure he couldn't do it. But he has done well in those classes and in all subjects. Now, he is the voice of the IET program. He loves learning, and he loves Tri-County."

"I've found I really like being around young people in class," Mark said. Among those are his two sons, Neal and Shane, who are also IET majors and who hold down full-time jobs.

Neal started in University Transfer but switched majors last year. He works full time at Best Buy as an inventory senior and attends day classes. Shane works third shift at Electrolux five to seven days a week and heads to Tri-County to attend morning classes, also. Both entered the Industrial Electronics curriculum after listening to their father rave about how much fun he was having and the unlimited job opportunities for skilled people in the field.

"I think it's the ultimate endorsement of the College and the program for a parent to encourage his children to come into our program," said Ellenberg.

The elder Franks is proud of both sons and they are of their dad.

"We help each other," Mark said. "But it's the instructors who bend over backwards for everybody. Whether it is English or math classes, teachers always tell us to call them if we have questions. They are here to help you succeed. Without the support from instructors, counselors and advisors, I would have quit," he said.

"I learn something new every day," added Mark. "In fact, I'm enjoying it so much my wife is scared I'm going to become a full-time student," he joked.