Senator Jim DeMint to be Keynote Speaker at Tri-County Technical College's Annual Report Luncheon

CONTACT: LISA GARRETT, 646-1506
FOR IMMEDIATE RELEASE 10/10/2008
(By Lisa Garrett)
PENDLETON --- Senator Jim DeMint will deliver the keynote address at Tri-County Technical College's Annual Report to the People Luncheon set for Wednesday, November 5.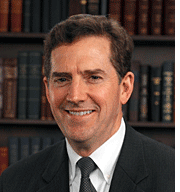 The luncheon annually attracts approximately 300 community, business, industrial, government and political leaders from Anderson, Oconee and Pickens counties.

Elected as South Carolina's 55th senator in 2004, DeMint established himself as one of the most effective conservative leaders in Washington, seeking to enact innovative solutions to improve America for future generations. He has been an advocate for smaller government, individual liberty, a strong national defense and traditional values.

He previously represented South Carolina's 4th Congressional District for three terms (1999 to 2005) before successfully running for the U.S. Senate in 2004 to replace retiring Sen. Ernest "Fritz" Hollings.

In late 2006, he was elected as chairman of the Senate Steering Committee, which is comprised of the majority of Republican senators and works to advance conservative legislation. Last year, Senator DeMint delivered the keynote address to the nation's largest gathering of conservative activists at the annual Conservative Political Action Conference (CPAC). He was recently ranked as the Senate's most conservative member by National Journal and as the No. 1 senator voting for responsible tax and spending policies by the National Taxpayers Union.

His committee assignments include Commerce, Science, and Transportation, Energy and Natural Resources, Foreign Relations and Joint Economic.

Senator DeMint holds a bachelor's degree from the University of Tennessee and an MBA from Clemson University. Prior to entering politics, he worked in the field of market research. In 1983, he founded his own research firm, the DeMint Group. He was president of this corporation until 1998.

The Senator and his wife, Debbie, reside in Greenville, and are the parents of four married children and are first-time grandparents.