Curtis Blackwell and the Dixie Bluegrass Boys Headline Bluegrass Concert

FOR IMMEDIATE RELEASE 3/17/2008
(By Lisa Garrett)
PENDLETON --- Curtis Blackwell and the Dixie Bluegrass Boys return this year as headliners for Tri-County Technical College's Third Annual Bluegrass concert.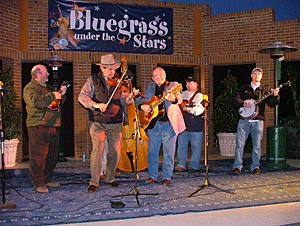 The community is invited to attend Bluegrass under the Stars, a free concert and fireworks event for the family set for Saturday, April 5, from 5 - 9:30 p.m. in the College's Amphitheater. In addition to Curtis Blackwell, the show will include performances by Al Osteen and Friends and Honi Deaton & Dream. Last Road will kick off the show. The concert will end with a fireworks extravaganza.

BBQ plates, funnel cakes, corn dogs and other refreshments will be for sale during the event.

About the Bands

For the last 40 years, Curtis Blackwell and the Dixie Bluegrass Boys have been considered among the most versatile of bluegrass bands.

Present members include Blackwell, who plays guitar and sings lead and tenor. He has played bluegrass for 50 years and has performed with Charlie Moore and the Dixie Partners and the legendary Bill Monroe. He recently was inducted into the Georgia Bluegrass Music Hall of Fame.

Sam Cobb plays bass fiddle and sings baritone vocals. He is an original member of the Dixie Bluegrass Boys, which was formed in 1960.

Vic Blackwell plays mandolin and sings lead and tenor. He is the newest member of the band and lives in Westminster.

Multiple-award winner Charles Wood plays the banjo and has been with the group for 23 years. He was the 2006 winner of the Walnut Valley National Banjo Championship in Winfield, Kansas, as well as the Rockygrass, Renofest and Merlefest banjo contests. He has performed on Late Night with David Letterman with Earl Scruggs and actor Steve Martin. He lives in Seneca.

Dr. Pat Welsh plays fiddle and sings bass and has been with the group for eight years. A teacher at D.W. Daniel High School, he was the 2005 National Teacher of the Year and received the state and national Christa McAuliffe Memorial Award. He lives in Clemson.

Last Road is a South Carolina-based group that plays a wide selection of traditional, contemporary and gospel bluegrass music. Their music combines the influences of first-generation performers like Flatt and Scruggs and Bill Monroe with more recent acts such as Mountain Heart and Ricky Skaggs. Dave Snyder formed Last Road in the early 1990's and plays mandolin. Rounding out the band are Brian Baker on bass and vocals, Benji Merritt on guitar and vocals, and the newest member, Mike Crane on banjo.

Georgia-based Honi Deaton & Dream will bring its "high energy from the heart" to this year's concert. Honi is joined by the instrumental and vocal powers of husband Jeff Deaton on guitar, Josh Brooks on banjo and Wayde Powell on resonator guitar.

Honi Deaton, a prolific songwriter, provides the group with much of its repertoire. She has been nominated twice for International Bluegrass Music Association Female Vocalist of the Year. The band received a 2007 Gospel Music Association Dove Award nomination in the category of Bluegrass Special Event Album of the Year with their music in Lamon Records' "Bluegrass Gospel Time."

Al Osteen has been involved in bluegrass music in the Upstate and beyond since the mid-l960's. His musical partners now include Rebecca Osteen, an accomplished bassist, premier Lowcountry fiddler Beekman Webb and singer/player extraordinaire Doug Flowers from Augusta, Georgia.

For more information, visit Tri-County Technical College's website at www.tctc.edu and click on Bluegrass Concert or contact Mary Johnston at (864) 646-1503.