Business Technology Named Advisory Committee of the Year

FOR IMMEDIATE RELEASE 8/27/2008


(By Lisa Garrett)
PENDLETON --- Tri-County Technical College's Business Technology Advisory Board was named Advisory Committee of the Year at the College's annual faculty/staff fall convocation.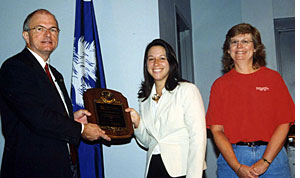 This is the seventh time the committee has received the trophy, the first time being in 1981, and later in 1984, 2000, 2003, 2004 and 2005. Chair Denise Bailey and Brenda Mattison, program coordinator for the Accounting Department, accepted the trophy and plaque on behalf of the committee.

The advisory committee consists of community business leaders who meet quarterly for discussion and to provide input about keeping the Business Technology curriculum relevant to today's ever-changing work environment. "Members work as a unit to collaborate on activities that will serve as learning opportunities for the students," said Phil Smith, who until recently, served as interim Business Technology department head.

This year's events included seminars titled "Things They Don't Tell You in College: Advice and Tips Provided by Leading Business Professionals in the Tri-County Area" and "Dinner Impressions: Guidelines for Business Social Settings."

Members volunteer to speak in classrooms, conduct mock interviews with students, sponsor internships and promote the College in the community. "Several members are alumni of Tri-County, and they share their stories and serve as positive role models for our students," added Smith.

"They are a devoted group of professionals who are excited about making a difference in the lives of our students," he said.