Susan Allen Joins Tri-County Technical College as Associate Vice President for Academic Affairs

FOR IMMEDIATE RELEASE 2/19/2008
CONTACT: SUSAN ALLEN, 646-1402
(By Lisa Garrett)
PENDLETON --- Susan Poston Allen, an award-winning community college educator and administrator, joins Tri-County Technical College as its first Associate Vice President for Academic Affairs.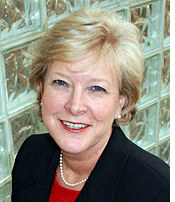 The newly created position reports to Dr. Phil Buckhiester, vice president for Academic Affairs, and is responsible for learning support services, which include online and distance education, the library, evening programs, media resources, instructional support and faculty development. In addition, the Gateway to College program reports to her, and she serves as an academic liaison for the Anderson and Oconee campuses, the dual enrollment program and the Curriculum Committee.

"I am extremely pleased that Susan Allen has become a member of the Tri-County community," said Dr. Buckhiester. "Her demonstrated excellence in the classroom, her project management skills and her outstanding ability to work with others are attributes that contribute to Susan's being a very valuable addition to the Academic Affairs Division and to the College."

Ms. Allen, of Piedmont, spent the last 20 years at Greenville Technical College as an English teacher/department leader and worked on specialized curriculum projects related to academic planning, development, delivery and assessment.

For the past three years she served as Director of Curriculum Planning and Assessment in Greenville Technical College's Office of Academic Support. Prior to that she was Associate English Department Head, (2003 – 2005), Project Director for the FIPSE Writing Coalition (2001 – 2004) and Academic Team Leader for Upstate Training Alliance (1999 – 2001). From 1992 – 99 she was the lead instructor for English Composition.

"After dedicating the past 20 years to teaching and learning in the South Carolina Technical College System, the opportunity to join Tri-County Technical College's winning team and be a part of its outstanding programs and service is an honor," said Ms. Allen. "Dr. Buckhiester's impressive leadership is well-known and highly respected throughout the state's technical college system and beyond, and I look forward to working with him to achieve goals and advance initiatives that enhance opportunities for student success."

In 2005 Ms. Allen was honored with the 2005 Cowan Award for Excellence in Teaching English from the Two-Year College English Association – Southeast, was named Educator of the Year by the S.C. Technical Education Association and received Greenville Technical College's English Professor of the Year Award. In 2002 she was named S.C. Governor's Distinguished Professor of the Year, along with Greenville Technical College's Professor of the Year.

She is a member of the Professional and Organizational Development Network, National Council of Teachers of English, Two-Year College English Association – Southeast, South Carolina Association for Developmental Education and the South Carolina Technical Education Association.

Ms. Allen holds a B. A. in English from Winthrop University and an M.A. in English from the University of South Carolina.

She and her husband, Ken, live in Piedmont and have two adult children.