Tri-County Technical College's Welding Advisory Committee Honored

CONTACT: PAUL PHELPS, 646-646-1405
FOR IMMEDIATE RELEASE 8/17/2007
(By Lisa Garrett)
PENDLETON --- Tri-County Technical College's Welding Advisory Board was named Advisory Committee of the Year at the College's annual fall convocation.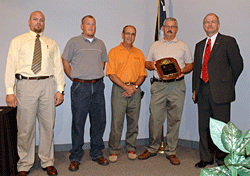 Throughout the year, this group of community leaders has been dedicated to helping College officials to accomplish departmental objectives, which include creating a new robotics certificate program, preparing to become an accredited testing facility and planning for a new facility.
"We are fortunate to have members with extensive backgrounds throughout the welding industry," said Dr. Ronnie L. Booth, president of Tri-County. "Their expertise has allowed us to raise the bar on the quality of instruction that our students receive, which, in turn, makes the students more valuable to the local and national industry."
Paul Phelps, program coordinator for the Welding Department, said the creation of the new robotic certificate program, set to begin in Fall 2008, was made possible by generous donations of two large robots from BMW. "The addition of these two robots will take us from basic understanding, operation, and programming to advanced application in a manufacturing environment. The committee has been instrumental in foreseeing the growing need for robotics in local industry and helping us to get into position to serve those needs," said Phelps.
Thanks to the work of the legislative delegations in the General Assembly, the College will receive $6 million in State funding to construct a Welding, HVAC, and Machine Tool building on the Pendleton Campus.
Another major accomplishment was two Welding faculty becoming certified welding inspectors through the American Welding Society (AWS). Phelps and instructor Scott Brabham completed certified welding inspector training through the Hobart Institute of Welding Technology and testing with the American Welding Society. Passing the examination earned them the Certified Welding Inspector (CWI) designation, an internationally recognized certification of proficiency in weld inspection. They also earned Certified Welding Educators credentials.
CWI certification also will be the first step in distinguishing Tri-County as the only accredited test center in the Upstate and the second in the State. Currently Florence is the only site in the State.