TAP Gives Jessica Grant a Head Start on Education

FOR IMMEDIATE RELEASE 11/5/2007
CONTACT: DOUG ALLEN, 646-1408
(By Lisa Garrett)
PENDLETON --- The first thing Doug Hayes noticed about 19-year old Jessica Grant was her impressive knowledge of electronics and her confidence level during the interview for a co-op position at Duke Energy.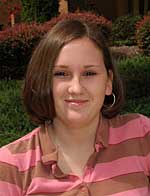 Once hired as the first female co-op for the Instrument and Electrical (I & E) Department's maintenance crew, Hayes, the I & E manager, immediately saw her standout work ethic. "She doesn't shy away from work. She interfaces well with team members and comes in every day willing to do her part. She'll try anything."
That ability to multi-task, and do it well, is her trademark, dating back to high school when she maintained top grades and completed a co-op for Magnecomp in Pickens during her senior year. She also managed to receive Technical Advanced Placement (TAP) credit at Tri-County through her high school electronics courses she was taking at the B.J. Skelton Career Center. This enabled her to enter Tri-County last fall with 18 credits in Industrial Electronics -- five classes ahead of the game.
Tri-County offers two opportunities for advanced standing -- TAP and dual enrollment. Because of students' competencies in high school electricity classes, they can receive TAP credit for entry-level college courses once they pass the transition courses in Industrial Electronics Technology at Tri-County.
High school students also can take college-level courses for dual credit. Technical college courses can be offered as part of the high school or career center's technical programs and count towards a credential at Tri-County.
I skipped nearly the entire first semester," said Jessica, an IET major from Easley, who attends Tri-County full time in the morning and works the afternoon shift (20 hours) at Duke. "I got TAP credit for five classes, including both AC and DC and solid-state devices. It saved time and money. I want to get a degree and start work as soon as possible. The co-op is great. My Tri-County classes relate to work, the pay is good and it works with my schedule."
The advantages of TAP are many, said Industrial Technology Department Head Doug Allen. "For the students, it's a possibility of trimming a semester or more off of the course load for graduation. For the College, we enroll good students into the curriculum and later put qualified graduates in a workforce that needs trained technicians."
Jessica will continue with the co-op experience until graduation when she will have a chance at full-time employment at Duke Energy, said Hayes.
"We have a partnership with Tri-County that has been good for us," said Hayes. "Jessica is the ninth co-op from Tri-County that Duke has hired. The students try the field out and confirm their interest. It gives us a head start to groom them for the expectations Duke is looking for. Hiring Tri-County co-ops has been a win-win situation for everybody."