Cathy Cole Receives Tri-County's Staff Excellence Award
FOR IMMEDIATE RELEASE 8/16/2007
(By Lisa Garrett)
PENDLETON --- Cathy Cole, office manager for the Financial Aid office at Tri-County Technical College, was honored Thursday (August 16) with the highest award given for staff excellence at the College.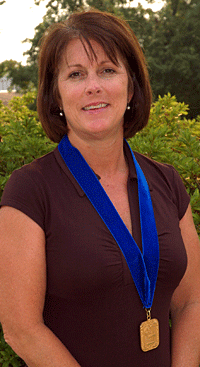 Cole, a Sandy Springs resident, received the Presidential Medallion for Staff Excellence at the annual faculty/staff convocation. The medallion, along with a cash award made possible by the Tri-County Technical College Foundation, goes to a person who has demonstrated over and over a strong belief in the purpose and mission of the College.
Cole joined the College in 1999 as an administrative specialist in the PACE office. Three years later, she moved to the Job Placement office as its administrative specialist and in 2004 assumed her current position. In her job as office manager, she manages the day-to-day computer operations of the financial aid office. In addition she coordinates the College's Scholarship Committee.
She worked for UPS for 15 years prior to joining the College.
"Cathy always keeps the needs of the students in front of her and she is committed to providing quality services," said Rosalind Hammett, senior systems analyst for the Information Technology Department at the College. "She is the lifeblood of the Financial Aid office. Whenever we have a new initiative to work on or a problem to resolve, she consistently brings up the question 'What is best for the student?' She identifies what she thinks the student needs to get through the red tape of not only financial aid but registration, advising and all of the steps a student must take to be successful."
Hammett credits Cole as being the financial aid expert through the implementation of Banner, the College's web-based administrative software system, and she continues to be. "The three other SC technical colleges who use Banner rely on her to help them and she's always willing to do so, making her a good ambassador for Tri-County and for creating partnerships with fellow colleges."
Cole's supervisor, Director of Financial Aid Bill Whitlock, agrees. "Because of Cathy's tenacity and her work ethic, she has made financial aid a much simpler process for students and the financial aid staff. Cathy is dedicated to the mission of the College and makes her views appropriately known for the betterment of the College. She is always professional in her manner in getting the job done. All of the financial aid staff acknowledge the unique talent we have in Cathy," Whitlock said.
She and her husband, Jamie, have two children and live in Sandy Springs.