Tri-County is Committed to Putting Learning First, Dr. Ronnie Booth Tells Annual Report Luncheon Guests

FOR IMMEDIATE RELEASE 11/1/2007
CONTACT: LISA GARRETT, 646-1506
(By Lisa Garrett)
PENDLETON --- Over the last year, Tri-County Technical College has made a conscious decision to become a Learning College by engaging students as full partners in the learning process, President Ronnie L. Booth told a crowd of business, industrial, education, government and political leaders at the College's Annual Report Luncheon.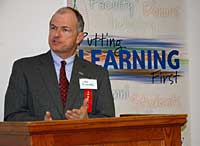 Guests received a 50-page annual report that highlights how students, faculty, staff, donors, community partners and alumni are all committed to putting learning first at the College.
"Because we are always striving to make students' learning experiences the best that they can be, and for the College to do things better and in more engaging ways, adopting the Learning College philosophy is a natural fit for Tri-County," said Dr. Booth. Specifically, the Learning College approach "places learning first and provides educational experiences for learners any way, any place, any time." "We believe we already are doing a number of things that fit this concept beautifully—in the classroom certainly but also through the services we offer and the learning-friendly environment we work to maintain," he said.
"We're focusing first on student learning; it's not about us but about our students," said Dr. Booth. The principles of a Learning College also involve creating real change in the students and engaging them as full partners in the learning process," he said. At the luncheon, Dr. Booth acknowledged Sara Touchet, of Easley, one of the first students to sign up for the Learning Excellence Initiative classes, which are designed to improve students' learning through examining and refining their first-year college experience. This is Tri-County's first step in creating learning communities that foster academic success and integrate students socially."
The Learning College concept is not just focused on faculty and students; it also places emphasis on the learning of individual employees and the institution as a whole.
"It's about all of us "walking the talk" and becoming absolutely the best at what we do—striving to be role models in our own right," Dr. Booth said.
Dr. Booth introduced several other students and community members in the audience who are featured in the report: Linda Worley and Mike Logan were among the employees laid off when WestPoint Stevens closed its doors in 2005. Their return to school is all made possible by federal funding from WIA (Workforce Investment Act) and the Trade Act (TRA).
He referenced Dr. Cheryl Allmon, a 1977 graduate of the Textile Management Technology program and Human Resource Manager for Johnson Controls in Seneca, who credits the College for igniting her quest for lifelong learning. "Tri-County got me where I am today and taught me the value of education," said Dr. Allmon, who since has gone on to earn bachelor's, master's and doctoral degrees. "It laid the foundation for me to continue my education."
Jessica Grant is an Industrial Electronics Technology major who was hired as the first female co-op for Duke Energy's Instrument and Electrical (I & E) Department's maintenance crew. She also managed to receive Technical Advanced Placement (TAP) credit at Tri-County through her high school electronics courses she was taking at the B.J. Skelton Career Center. This enabled her to enter Tri-County last fall with 18 credits in Industrial Electronics -- five classes ahead of the game.
"Our goal is to focus on student learning and their successes. We've been talking about student learning for years, but we're being more deliberate in how we approach student learning. The stories in this annual report epitomize what we're about. We intend to be the best college -- you deserve it. We're a demand-driven institution, and we will continue to listen and to learn," he said to the crowd.