Gambrell and Mosher are College's First Gateway Grads
FOR IMMEDIATE RELEASE 8/6/2007

CONTACT: NITA COLMAN, 646-1542
(By Lisa Garrett)
PENDLETON --- Gateway to College Director Nita Colman believes there are moments in life that determine our purpose and define who we are. Receiving their high school diplomas through Tri-County Technical College's Gateway program is one of those moments for Julius Gambrell and Laura Mosher.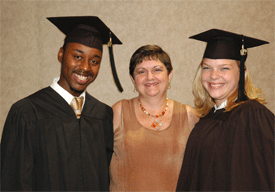 Gambrell and Mosher are Tri-County's first to cross the finish line in the Gateway initiative that is designed to serve at-risk students and recent high school dropouts in Anderson, Oconee, and Pickens counties. The purpose of Gateway to College is to serve the needs of students who have recently dropped out of high school or who have the academic capability but are struggling in a traditional high school environment.
Family and friends, College faculty and staff, along with school district, WorkLink, and Abney Foundation partners gathered the afternoon of graduation day (August 3) to celebrate this milestone. The scholarship program is made possible by funding from Portland Community College (serving as an intermediary for the Bill and Melinda Gates Foundation), the South Carolina Lottery Tuition Assistance and other College and grant programs, the College's Foundation and the Workforce Investment Act grant.
"We are here because we have a common purpose collaboratively defined as Gateway to College," said Colman. "More importantly, we have two students, Julius and Laura, who have redefined their futures. You were previously labeled as at-risk youth and high school dropouts. Today you are defined as high school graduates and college students," said Colman.
"Laura and Julius are the greatest examples of how all of us can collaborate in our service region in a way that's good for the College and the community," said Dr. Phil Buckhiester, vice president for Academic affairs at Tri-County. "You're the first to cross the finish line, and we will point to the two of you and say it can happen with hard work and determination. You're our role models for the coming year," said Dr. Buckhiester.
"I can't say thank you enough. You have no idea what this means to me," said 21-year-old Mosher, who dropped out of Easley High School in the 12th grade. "Gateway to College is changing lives. I'm a completely different person now than when I started the program a year ago. When I started I had no confidence. I began to see myself grow and I wanted to learn more and more. I thought there were no second chances in life," said Mosher, who thought her only options were gaining her GED and taking a minimum wage job. "But my dream took flight, and it's only up from here," said Mosher, who plans to continue her studies at Tri-County and transfer to a four-year college to study marine biology.
Twenty-year-old Gambrell read a poem had had written which talked about exchanging gangs and street violence for education when he apprehensively entered the program. "It hasn't been easy but I had to make up my mind to put my past down," he read. He credited the Gateway staff, whom he calls his "family" for "accepting me with open arms and holding me with a pure heart." He referenced Colman as his mother, "who helped me complete broken dreams and helped me mend wounded visions so now my sight is back and I can see again." Gambrell plans to continue at Tri-County, and his ultimate goal is to become a motivational speaker.
"We believe that all students have the capacity to achieve in a collegiate environment here at Tri-County Technical College. There is a unique Gateway to College culture. We see it, students feel it and the school districts are spreading it," said Colman.
"Strengthening this culture is crucial to helping our students find their way in the classroom and in life. As students like Julius and Laura take courageous, transformative steps toward a bright future, they, indeed, can appreciate the foundation that the Gateway to College program has given them," said Colman.