Dislocated Workers Embrace Educational Opportunity

FOR IMMEDIATE RELEASE 11/5/2007
CONTACT: LISA GARRETT, 646-1506
(By Lisa Garrett)
PENDLETON --- Linda Worley says she used to leave the Employment Security Commission (ESC) One-Stop Workforce Center office in tears following her weekly job search update.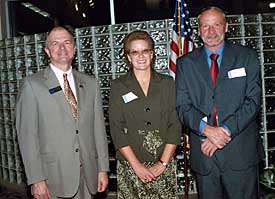 The longtime textile worker, who lost her job in a 2005 layoff, says being told you're not qualified for jobs time and time again is a feeling she'll never forget. While Worley sat down and cried every time she was turned down, Mike Logan, another victim of the layoff, tried to stay busy and not think about the jobs that repeatedly passed him by.
Both knew they could prove themselves if only given a chance.
Every week Worley and Logan, both among the hundreds of employees laid off when WestPoint Stevens closed its doors in 2005, knew their options were running out. Her unemployment benefits were soon to expire; she had no job and no prospects in sight. Logan was in the same boat. He had a wall filled with credentials and certifications earned in his 25 years working in production and later supervisory positions at the plant. "But I could have thrown them in the trash can. They didn't mean a thing. It only meant something to me and WestPoint Stevens. My credentials were on-the-job training and that didn't mean a thing in today's workforce."
Both recall getting only one callback each for an interview the entire time they were searching for work. "We were either overqualified or under qualified. Most of the jobs needed that college degree," said Logan, "and neither of us had it."
"At 50 I felt like I was at square one again," said Logan. Worley, at 46, echoed those sentiments.
"We could do the jobs. We just didn't have the college degree," she said.
While wrestling with the stress of unemployment, they were also dealing with the emotions of the devastating loss of a close-knit work family. Worley had been at the plant since 1982 and Logan even longer, since 1980. "When it closed, it was like a death. A big part of me was gone forever. I loved WestPoint Stevens. I was able to make a living for myself for 20-plus years. Now what did I have to show for it," asked Worley.
They were two months away from their unemployment benefits expiring when Andrea Anderson, Tri-County's former WIA counselor in Seneca's ESC Workforce Center, gave them their first sign of hope – attending college.
"You'll both be able to begin your education, "she told them.
"It was the first day I left feeling good," said Worley.
Their return to school is all made possible by federal funding from WIA (Workforce Investment Act) and the Trade Act (TRA). When their employment checks ceased after 26 weeks, they had the opportunity to get a job or go to college. With no offers in sight, they chose Tri-County. WIA and TRA funds pay for tuition, books and supplies, in addition to a weekly gas stipend
"It's the chance of a lifetime. WIA and TRA make it possible at no cost," said Worley.
Without Tri-County, I would have had to take just any job and struggle financially. I didn't want to settle. I've learned to adjust to a smaller income," she said.
Longtime friends and co-workers, Worley and Logan became each other's support system in the first days of college. Both had never attended college, and they were admittedly apprehensive. "I broke out in hives and had to go to the doctor the day I took my placement test. I was scared to death," said Worley.
"I was sure I wouldn't fit in," said Logan. "But two semesters later, I feel right at home." In fact, Tri-County is their second home. They spend the majority of their days on campus, either in Business Management classes or heading to the library to study or work on projects. It's paid off -- they have been named to the President's List (designating all A's in coursework).
The word dedicated is an understatement when describing the two Oconee County residents.
"We've been friends since the 1980's, and we made a pact that we would do this together," said Worley.
"I feel more confident with a friend. I knew we could work on things together. He keeps me on track and calm," said Worley. "It works both ways," said Logan.
"I love Tri-County," said Worley. "The month we were on Christmas break, I wanted to get back. I learned new things at WestPoint Stevens, but Tri-County is a real challenge for me. It's going by way too fast. Graduation will feel like another loss to me. I love coming to school, this school."
Both have one year left before graduation when they will leave armed with the experience, education and confidence to enter the workforce.
"Nothing can hold us back once we get our degrees," said Logan.