Parkers Named Philanthropists of the Year

FOR IMMEDIATE RELEASE 11/19/2007
CONTACT: LISA GARRETT, 646-1506
(By Lisa Garrett)
PENDLETON --- His vision gave rise to the establishment of Tri-County Technical College, and over the past 46 years, he and his wife, Martha, have been friends and benefactors to students and the College. Senator Marshall Parker, one of the State Technical College System's founding fathers, and Mrs. Parker received the College's Philanthropists of the Year award at a November 15 meeting of its Foundation Board. This award is the Foundation's highest and most prestigious honor reserved for those who make a substantial contribution to the Foundation in support of the College's programs and services.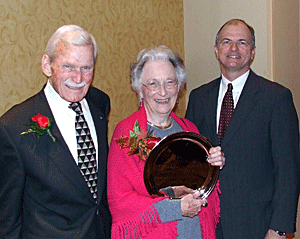 "I am honored to present this award to both of you," said President Ronnie L. Booth. "Senator Parker, you are one of the founding fathers of the State Technical College System and a longtime generous supporter of Tri-County Technical College. You and Martha mean a great deal to us. We thank you for everything you do for the College and ultimately for our students."
The Parkers, longtime Seneca residents, have a long history of altruistic service to Tri-County and its surrounding communities. Senator Parker demonstrated his commitment to technical education through his tenure as State Senator (1957 – 66) and later through his service on the Foundation Board, which he chaired for four years (1989 – 93) and as a member of the Finance Committee since 1989.
Mike Cannon, a Seneca native and a current member of the Foundation Board, spoke personally about the Parker's generosity. Upon graduating from high school in 1965, he went to work for Senator Parker at his dairy to earn money for college. "He said, 'Come on and work for me. I'll pay your way through college and you can pay me back as you can – interest free.' I worked in his office doing bookwork and drove a milk truck. Later, after I earned my degree, I did one of the hardest things I have ever had to do – I went to him and told him I was ready to leave the dairy to move forward in my career. He said, 'go your own way.' The Parkers are two of the finest people I know."
In 1991 the late Senator Strom Thurmond honored his longtime friend and political associate by establishing a scholarship endowment fund in Senator Parker's name at Tri-County. Since then the Parkers have made significant financial contributions to the College, including endowing scholarships and establishing an instructional/staff excellence endowment. Their first gift was to support the Don C. Garrison Endowed Scholarship in 1988. Since then they endowed the Martha Barham Parker Scholarship in 1990 in memory of their daughter, in 1995 they established the Hazel Sherrill Instructional/Staff Excellence Endowment, and in 1999, they established a scholarship in honor of Mrs. Parker's brother, the late Dr. R.K. Nimmons. They also have been faithful supporters of the Alumni Association's annual golf tournament and the Foundation's fall classic golf tournament.

The College paid tribute to Senator Parker in 1987 by inducting him into the Order of the Trilon, the highest honor bestowed by the College Commission. In 2003, friends and family of Senator Parker donated funds to name the auditorium in Oconee Hall in his honor.
At the dedication ceremony, Senator Parker said, "I have never been able to take sole credit for any accomplishments. It has always been a concerted effort of dedicated people."
A native of Seaboard N.C., Senator Parker is a 1944 graduate of the University of North Carolina at Chapel Hill. He was in the Marine Corps from 1943 – 46 and served in the Pacific during World War II. While a student at UNC, he met Martha Nimmons, whom he married in 1943. The Parkers had four children: the Reverend Alice P. Day, of Canton, NC, Susan P. Depass, of Columbia, Dr. Anna P. Williams, of Seneca, and Martha Barham Parker, deceased.