Dr. Valerie Ramsey to Address Gateway to College Graduates December 18

FOR IMMEDIATE RELEASE 12/12/2007
CONTACT: NITA COLMAN, 646-1542
(By Lisa Garrett)
PENDLETON --- Six tri-county residents will march across the stage to accept their high school diplomas through Tri-County Technical College's Gateway to College program at a ceremony set for December 18.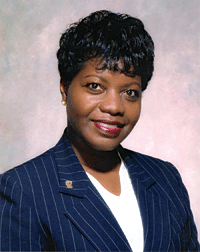 The graduation ceremony will be held at 6:30 p.m. in the Marshall J. Parker Auditorium.
The Gateway initiative is designed to serve at-risk students and recent high school dropouts in Anderson, Oconee, and Pickens counties. The purpose of Gateway to College is to serve the needs of students who have recently dropped out of high school or who have the academic capability but are struggling in a traditional high school environment.
Gateway's scholarship program is made possible by funding from Portland Community College (serving as an intermediary for the Bill and Melinda Gates Foundation), the South Carolina Lottery Tuition Assistance and other College and grant programs, the College's Foundation and the Workforce Investment Act grant.
The graduation program will feature comments by Dr. Valerie Ramsey, who serves as chief business officer for the College of Health, Education and Human Development (HEHD) at Clemson University. Dr. Ramsey began her education at Tri-County and in 2005 became the first alumna in the history of the College to serve on its governing board.
"I believe that the Gateway to College program is such a great lifeline to those who reach out and grab hold of it," said Dr. Ramsey. "I was told that there would be only six graduates, and that this was a special ceremony for these students. I knew immediately that I did not need time to think about my reply to this invitation. When I considered the significance of this ceremony, I can honestly say that had there been only one graduate, I do not believe that I could feel any more honored or blessed to have been asked to speak and share in this event! These graduates represent so much of the passion that I feel as a result of my life transformation through education that began right here at Tri-County. This invitation is a personal favorite. Tri-County Technical College is a gateway to life! I pray that all six of them will see this milestone as just the beginning of their educational journey!"
Back in 1975, a 21-year-old Ramsey entered Tri-County's secretarial classes through the federally-funded Comprehensive Manpower Program. She was a single parent who was looking for a chance at a better life that would one day enable her to support herself and her five-year-old daughter.
"Tri-County is more than an institution of higher learning. It is a place where life-changing seeds are planted and nurtured," said Dr. Ramsey, who credits the College as the vehicle that propelled her to rise above her circumstances.
She graduated from Tri-County's Arts and Sciences Division in 1988 and later earned her bachelor's degree in Human Resource Management from Southern Wesleyan University in 1990, followed by a master's in Human Resource Development in 1995 from Clemson University. She earned a doctorate in Educational Leadership in Higher Education from Clemson in 2003. Dr. Ramsey is back in the classroom again, this time pursuing a master of ministry degree at SWU.
"Education is powerful. I believe in Tri-County. And I believe it is an awesome vehicle to transform lives. I'm a living example that anything can happen," she said.