Tri-County Students Take Four Honors at Speech Festival
FOR IMMEDIATE RELEASE 4/19/2007

CONTACT: GREG TONEY, 646-1364
(By Lisa Garrett)
PENDLETON --- Tri-County Technical College students took four honors at the 2007 South Carolina Speech and Theatre Association College Speech Festival held at Newberry College April 14.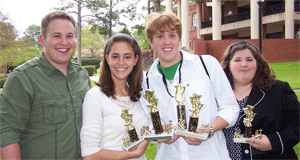 Chris Simpson, of Greenville, captured three of those awards -- a second-place nod in the Storytelling category and two third-place awards in Impromptu Speaking and Duet Acting. Simpson is a University Transfer major. Suzanne Flaugher, of Pickens, shared the Duet Acting award with Simpson. Flaugher also is a University Transfer major.
Kristin Whitt, of Anderson, received a third-place award in the Storytelling category. She is a University Transfer major.
Around 60 students from Tri-County, Claflin, College, Columbia College, Converse College, Lander University, Newberry College, South Carolina State University and Wofford College competed. The categories included: Extemporaneous Speaking, Storytelling, Persuasive Speaking, Impromptu Speaking, After-Dinner Speaking, Prose Interpretation, Duet Acting, Audition Monologue and Poetry Interpretation.
"For three of our four students who competed, this was their first competition, and they all did very well," said Greg Toney, Speech instructor. "This is a true learning experience and a great way to build their confidence level about public speaking, which is the number-one fear of Americans. They will be able to use these communication skills in the workplace. The benefits of participating with Tri-County's Speech Team are lifelong," he added.