College, Community Dedicate Anderson Campus
FOR IMMEDIATE RELEASE 3/28/2007

CONTACT: LISA GARRETT, 646-1506
(By Lisa Garrett)
PENDLETON --- Councilman Michael Thompson has high expectations for Tri-County Technical College's new Anderson campus that is located in the district he represents.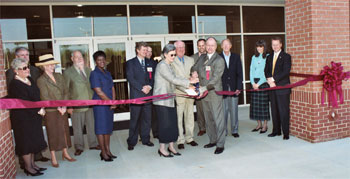 "It's my dream that this building will serve as an economic catalyst for County Council District 5," he said at the March 23 dedication ceremony for the College's first satellite campus that opened its doors to the Anderson community March 1.
"I'm tickled pink this building is located in District 5," added Thompson, who began his education at Tri-County following high school and went on to earn bachelor's and master's degrees. "I'm a testimony to the lifelong impact that Tri-County makes on lives."
Thompson was among those who joined President Ronnie Booth, the faculty and staff, and State and local leaders in dedicating the Anderson Campus facility. Following the ceremony, an open house was held for guests to tour the 42,000-square-foot structure, which houses the Office Skills Computer Lab, a large multi-purpose classroom, a culinary lab, student lounge, science lab, a mini-learning resource center and other general classrooms.
"As a commission, we had talked about someday having a satellite campus," said Dr. Mendel Stewart, who chairs the College's Commission. "It has all come to fruition today. We've demonstrated we can do this as a team -- administrators, commissioners, foundation board members, delegations, and the community. We've positioned ourselves to do a lot for the students and to give them opportunities they never had before. I'm proud to be a part of this College."
The campus serves several of the College's goals by bringing its services closer to Anderson residents, increasing community involvement and expanding educational opportunities. Both credit and non-credit programs are offered at the facility.
Dr. Barry Russell, president of the South Carolina Technical College System, said the educational programs housed at the Anderson campus are a testament to the role that technical colleges play in South Carolina's educational and workforce development. "Sixty-five percent of the jobs of the future are expected to need an associate degree or advanced technical training—exactly the type of educational opportunities Tri-County Technical College and this new campus—and the rest of the State's Technical Colleges—provide," said Dr. Russell.
New credit programs include Utility Service Technician Certificate, Crime Scene Investigations Certificate and Associate degree in Occupational Technology with a concentration in Pre-Pharmacy. Corporate & Community Education classes range from CPR and first aid classes to business and professional development programs. The campus also houses the College's new Culinary Arts lab and program.
"Where but a technical college can you go to experience such a diverse range of practical, hands-on, and job-applicable educational and training opportunities?" asked Dr. Russell.
"This campus started with an idea," said Dr. Booth, "and we looked to the Foundation to form an LLC to buy the property and to build the building. We asked the Foundation Board to step out and do something bold and they did it."
Dr. Booth announced that the Clemson Area Transit and Electric City Transit buses are partnering to provide free transportation to Tri-County students by including the Anderson campus on their routes. "It's about making education more accessible," he said.