Community Partners Work Together to Bring College to Oconee County

CONTACT: LISA GARRETT, 646-1506
FOR IMMEDIATE RELEASE 9/13/2007
(By Lisa Garrett)
SENECA --- Oconee County residents now have a college in their own backyards.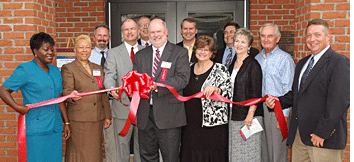 Administrators and educators from Tri-County Technical College and the Oconee County School District joined representatives from Oconee Memorial Hospital, Oconee County Council and legislators and community members as they gathered Thursday to dedicate the Tri-County Technical College Oconee Campus at the Hamilton Career Center.
"This is a big day for the College, the School District and Oconee County," said Dr. Ronnie Booth, president of Tri-County Technical College. "We're glad to be a partner with a lot of good friends."
Bringing Tri-County Technical College to Oconee County came to fruition because of collaboration between Oconee County School District, Oconee County Council and the College, with support from Oconee Memorial Hospital. Last year, Tri-County partnered with the Oconee County School District and Oconee Memorial Hospital to develop a collaborative agreement to expand nursing opportunities for Oconee County high school students.
In August, fall semester at the Oconee Campus began with a full slate of university transfer classes for those Oconee County residents who want to save time while pursuing a degree in the evening. Offerings cater to working adults and high school students by offering late afternoon and early evening classes in the University Transfer curriculum. High school students can choose to take dual enrollment classes (sunrise and late afternoon/evening) to get a head start on college.
Mike Pearson, director of the Hamilton Career Center, said the new facility opened with more than 150 day and evening students in credit and dual enrollment classes. "That's wonderful."
Tri-County shares a newly constructed building with the Hamilton Career Center, who occupies the annex in the daytime, and Tri-County offers classes at sunrise and in the late afternoon and evening, Pearson said. The building is connected to the existing facility that previously housed the Career Center's Licensed Practical Nursing (LPN) program. There are two classrooms and a science lab, allowing three courses to be offered at the same time, creating a centralized Oconee County location for Tri-County courses.
In a surprise announcement, Dr. Booth told the crowd that Jane and Bob Harris, of Seneca, will name the new Science Laboratory in the building. It will be the Jane and Bob Harris Science Laboratory. "Jane and Bob are committed to improving education and to the mission of the College," said Dr. Booth. "We appreciate their vision for the future of this campus in Oconee County and their willingness to invest in making this vision a reality."
Dr. Michael Lucas, superintendent of the School District of Oconee County, praised the partners and their vision, adding that "where there is no vision, the people perish. It's important to collaborate so the students can have a vision and can prosper."
Pat Smith, vice president of nursing at Oconee Memorial Hospital, said currently there are 1,200 health care employees, both full- and part-time, at the hospital. 400 are R.N.'s and L.P.N.'s "The need for both will grow," she said, adding that nationally, there is a nursing shortage. "If this shortage is not met by the year 2020, the nation will need 100,000 more nurses than we currently have. That's a daunting number. This partnership will help us to have a pool of qualified nurses," she said. "I applaud the vision and wisdom of Tri-County and the Hamilton Career Center for making this a reality," said Smith.
This spring, the LPN diploma program will begin at the Oconee campus, giving area students twice-a-year entry into the Tri-County Technical College LPN curriculum. Academically qualified students in the Health Occupations/Sciences area of the Hamilton Career Center will be given preference for LPN program slots. This gives high school students a head start on a nursing career. The general education classes will meet Registered Nurse (R.N.) requirements so students can move more quickly into the R.N. major if they choose.
Tri-County Commissioner and retired Seneca High School Guidance Director Helen Rosemond-Saunders urged the crowd to be advocates for this new campus. "We must tell residents and must be proud to have a campus in our service area." She urged persons to take advantage of course offerings. "You're never too old to learn," she said.
"Oconee County must be knowledgeable of what Tri-County offers and the financial savings of attending a two-year college. We can't keep this a secret, "said Mrs. Saunders. "Together we can improve the quality of life in Oconee County."
"This facility is a prime example of what happens when people pull together to make our community a better place," said Kenneth Poston, vice chair of the School District of Oconee County Board of Trustees. "You've given Oconee County a facility in our backyard where we can thrive and learn. We are blessed to have this facility in Oconee County."