Easley Resident Receives Two Prestigious Honors for MLT MajorsSenior

CONTACT: LISA GARRETT, 646-1506

FOR IMMEDIATE RELEASE 4/11/2007
(By Lisa Garrett)

PENDLETON --- Easley resident Karen Pearson was singled out twice last month as the recipient of two prestigious honors for Medical Laboratory Technology (MLT) majors.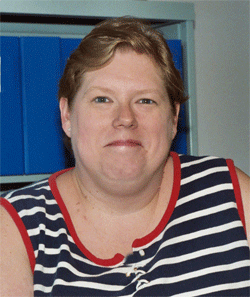 Mrs. Pearson, a freshman MLT major at Tri-County Technical College, is this year's recipient of the South Carolina Society of Clinical Laboratory Science (SCSCLS)/MLT scholarship. She received the award March 9 at the SCSCLS Student Bowl in Columbia. Mrs. Pearson received a $500 scholarship and a gift card.
In addition, she earned the Keys to the Future Award March 28 in recognition of her scholastic achievements, hard work, dedication and service to SCSCLS. This honor is awarded to one technical college student in the State.
"This is overwhelming," said Pearson, a married mother of three who returned to school in 2003 after an 18-year absence from the classroom. "I work hard and enjoy the MLT program immensely. I'm excited about spreading the word about the MLT profession and how important we are to hospitals and doctors' offices. I look forward to being in the workforce," said Pearson, who will graduate in May 2008. She is a member of the American Society for Clinical Pathology, the SCSCLS and Tri-County's Future Laboratory Professionals Association. She and her husband, John, have three children and live in Easley.