Senior MLT Student One of Top Four Finalists in SCSCLS State Student Bowl

CONTACT: POLLY KAY, 646-1349
FOR IMMEDIATE RELEASE 4/11/2007
(By Lisa Garrett)
PENDLETON --- A senior Medical Laboratory Technology (MLT) student from Tri-County Technical College was one of the top four finalists in the S.C. Society of Clinical Laboratory Science (SCSCLS) State Student Bowl.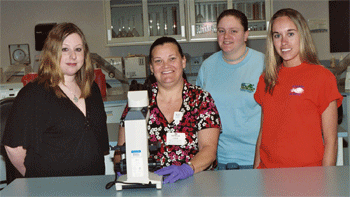 Ashley Bates, of Walhalla, and three other Tri-County MLT majors competed in the college bowl held in Columbia March 9. They competed against 32 students representing eight technical colleges in the state that have MLT programs. Bates received a one-year paid membership in SCSCLS.
"This competition is a good review for the upcoming registry exam. I found out I knew more than I thought," said Bates.
The ultimate goal is to prepare students for the National Registry of the American Society of Clinical Pathology (ASCP) said Polly Kay, MLT program coordinator. The MLT ASCP is the most prestigious credential a medical laboratory technologist may earn. Last year's graduates received a 100 percent passing score on the registry.