Dr. Rebecca Gimenez to Discuss Equine and Large Animal Rescue at Anniversary Dinner

FOR IMMEDIATE RELEASE 9/24/2007
CONTACT: LISA GARRETT, 646-1506
(By Lisa Garrett)
PENDLETON --- Dr. Rebecca Gimenez will be the keynote speaker at Tri-County Technical College's Veterinary Technology 30th Anniversary Dinner. The barbecue dinner will be held October 13 in the Student Center Café from 6 – 7:30 p.m. The cost is $20 per person.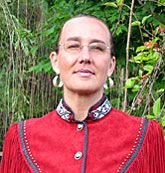 The event kicks off National Association of Veterinary Technicians in America Week (observed October 14 – 20) to recognize veterinary technicians for their contributions to the veterinary health care team. Veterinary Technology graduates from the last 30 years will have a chance to reunite and see the great strides the program has made at the department's 30th anniversary Open House scheduled for 2 – 5:30 p.m. just prior to Dr. Gimenez's speech. There is no charge for the Open House event, which is open to the public.
Dr. Gimenez's topic will be equine and large animal rescue and perspectives on military and domestic animal issues in Iraq. Dr. Gimenez returned in July from a one-year combat tour in Kuwait and Iraq where she served as a Communications Officer.
She is an active member of her county and State's Large Animal Rescue Team, a Logistics Officer for National Veterinary Response Team (formerly Veterinary Medical Assistance Team (VMAT -2), and a Major in the Signal Corps, U.S. Army Reserves.

Dr. Gimenez holds a B.S. in Biology from Wofford College and a
Ph. D. in Animal Physiology from Clemson University. A former Biology professor, her current scientific research interests include a national survey of trailer accident causality, a study of physiological responses to technical rescue procedures and equipment, and investigation into poor nutrition in horse neglect cases. Her first book on Technical Large Animal Emergency Rescue is slated for publication by Blackwell-Scientific this winter, and she is currently taking the last pre-requisites to apply to Veterinary School for 2009 admission.

With husband Tomas (Professor Emeritus, Clemson University), she owns two dogs, two cats, a llama, several snakes, a couple of pan-size ornamental fish, and they trail ride their eight horses using Natural Horsemanship methods. They are active in S.C.'s horse organizations - especially disaster preparedness, animal abuse and trailriding/greenspace issues. Together they give training in Technical Large Animal Emergency Rescue techniques across the U.S., using their privately-owned animals which she trains for the hands-on demonstrations to perform without sedation.
They have published numerous critiques, techniques and journal articles on the subject of technical large animal emergency rescue.
For more information about the free Open House, contact Dr. Peggy Champion at 646-1357. To purchase a ticket to the dinner, contact Candice Miller at 646-1808.