Team from Walhalla Wins Annual Alumni Golf Tournament; Event Nets $4,600

FOR IMMEDIATE RELEASE 5/10/2007
CONTACT: LISA GARRETT, 646-1506
(By Lisa Garrett)
PENDLETON --- A team from Walhalla was the winner among the 53 players in Tri-County Technical College's 21st Annual Alumni Association Golf Tournament held May 4.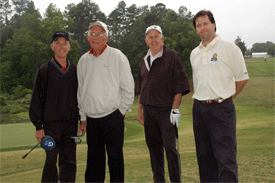 A low score of 55 won the team of Jim McCoy, James McCoy, Jimmy Smith and Jerry Smith the first-place prize in the Captain's Choice, Four-Man Team tournament held at Boscobel Country Club in Pendleton.
The team of Guery Nicholson, Nicky Nicholson, Jeff Hopkins and Jack Dodd took second place.

The tournament netted $4,600. The Anderson Independent-Mail was the silver sponsor of the tournament.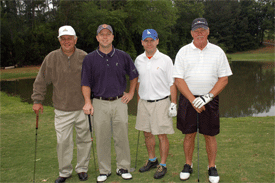 Proceeds from past tournaments have enabled the Alumni Association to name a room at the Pendleton campus, as well as the Anderson campus; to endow two scholarships through the College's Foundation and to make professional development opportunities available to faculty and staff. The first scholarship was endowed in 1995, and since 1990, the Alumni Association has contributed more than $50,000 to the College's Foundation.