C.W. Hicks Receives Adjunct Faculty Presidential Award at Tri-County Technical College

FOR IMMEDIATE RELEASE 5/31/2007
CONTACT: LISA GARRETT, 646-1506
(By Lisa Garrett)
PENDLETON --- Charles W. (C.W.) Hicks, Jr., an instructor in the Criminal Justice Department at Tri-County Technical College, is the recipient of the 2007 Adjunct Faculty Presidential Award at the College.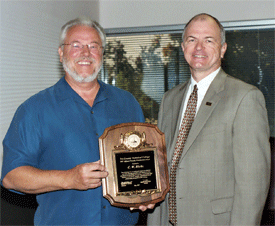 This award is given annually at the faculty/staff convocation to the adjunct faculty member who is recognized for excellence in teaching, who has consistently high student evaluations and who supports the philosophy and goals of the College.
Hicks is a 1975 alumnus of Tri-County's Criminal Justice Department and a graduate of the S.C. Criminal Justice Academy.
He has been an instructor in the CRJ department since 1986, teaching day and evening classes, and in recent years, added online courses.

"C.W. not only teaches students; he truly cares for them as evidenced by in-depth comments that students take the time to share when completing instructor evaluations each semester," Martha Addis, dean of the College's Business and Public Services Division, wrote in her nomination letter. "As I read the comments from this past fall semester, I was overwhelmed by the sincerity. I was especially interested in the comments from students taking his online courses. They commented at length about his quick response time and that his dialogue showed he cared for them even though they were not face to face in the classroom. Students also wrote about how they felt as if he was right by their side every step of the way during the term and about the good advice he took the time to give when they were thinking about careers in law enforcement," said Addis.
"C.W. is always positive and gives 100 percent to students in the classroom and to students outside of class," she added.
Jonathan McCombs, program coordinator for the Criminal Justice Department, also nominated Hicks. "For nearly four years I have witnessed first hand the dedication and lifelong impact C.W. has on all of his students," said McCombs. "He is eager to make the classroom experience more than lecture, is dedicated to creating a wholesome learning environment and is an excellent instructor. Often, he goes above and beyond what is required of him in both the lecture and online courses he teaches. Many students come away from his classes with not only the knowledge to be effective practitioners, but having had a great experience in the process."
He and his wife, Sue Ellen, have two adult children, Shannan Hicks Holland and Kristi Hicks Walker.