HVAC Students Upgrade Climate Control System For Veterinary Technology's Large Dog Kennel

CONTACT: FRANKLIN SMITH, 646-1413

FOR IMMEDIATE RELEASE 10/9/2007
(By Lisa Garrett)

PENDLETON --- In the next few weeks, Heating, Ventilation and Air Conditioning (HVAC) students at Tri-County Technical College will complete a service-learning project designed to upgrade the entire climate control system for the Veterinary Technology Department's large dog kennel.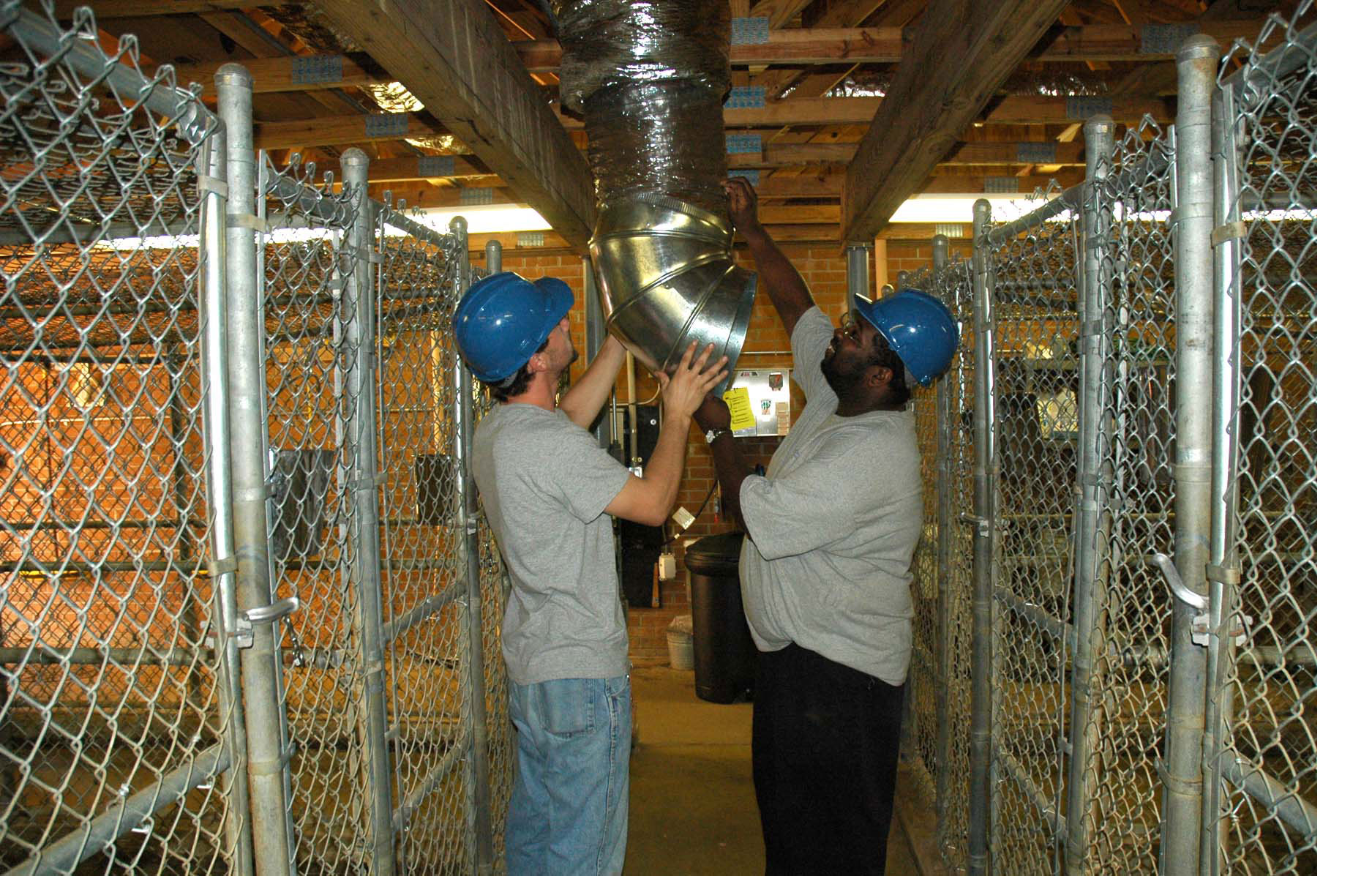 "I had been looking for a service-learning project for the HVAC students," said Eugene Grant, dean of the Industrial and Engineering Technology Division. During a conversation with Dr. Lynn Lewis, dean of the Health Education Division, he discovered that the Veterinary Technology Department was grappling with not being able to house large animals this summer because of the extreme heat temperatures, thus limiting the students' lab experience with large dogs. (Smaller dogs and cats are housed year-round in the department's main building.)
"The USDA will not allow us to house animals in a facility where the temperature is 85 degrees or above," said Dr. Peggy Champion, head of the Veterinary Technology program. "This summer was extremely hot, and this fall has been unseasonably hot, also. Many days have been well over 95 degrees. We needed a place with air conditioning for our large dogs. This collaborative effort means we can house dogs in the kennel, regardless of the time of year."
Second-year HVAC students, in both day and evening classes, began renovating and retrofitting a pre-existing system to improve its operational design. This reinforces that they have learned in the classroom and what they will do in the workforce, said Franklin Smith, program coordinator for HVAC and Industrial Maintenance Technology.
"An operational climate control system will help to reduce high humidity levels, which are the leading cause of mildew and mold and respiratory problems," said Smith. "The lower humidity aids in the quick drying of the floors after cleaning, which keeps the dogs more comfortable, clean and dry," he added.
Students are gaining excellent experience in HVAC installation, problem solving and customer service. Current ductwork was repaired, reinsulated and adapted to accommodate a five-ton air conditioning unit. "Safety for students, equipment and facilities were stressed as the students worked. As on the actual job site, students had to coordinate timelines with day and evening students, facility maintenance and outside contractors. HVAC supplies were obtained from local vendors such as Baker Distributor and C-C Dickson Company," said Smith.
HVAC students also incorporated a back-up climate control system to provide for the safe care of the animals. "Additional filtration and ultraviolet light will be added to help eradicate bacteria and mold. Future students will have the opportunity to provide continual preventative maintenance for the HVAC equipment. This healthy environment provides fresh air and lowered humidity level in the kennel, which is important in controlling the spread of airborne pathogens such as kennel cough," explained Smith.
"We are so thankful for this collaboration," said Dr. Champion. "Everybody wins, including the animals and our students."