Rosalind Hammett Receives Tri-County's Staff Excellence Award

FOR IMMEDIATE RELEASE 8/17/2006
(By Lisa Garrett)
PENDLETON --- Rosalind Hammett, senior systems analyst for Tri-County Technical College, was honored Thursday (August 17) with the highest award given for staff excellence at the College.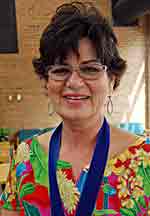 Hammett, an Anderson resident, received the Presidential Medallion for Staff Excellence at the annual faculty/staff breakfast. The medallion, along with a cash award made possible by the Tri-County Technical College Foundation, goes to a person who has demonstrated over and over a strong belief in the purpose and mission of the College.
Hammett joined the College in 1986 as a programmer analyst for the Computer Services Department (now Information Technology). She led the department from 1990 - 94 and went on to work on Title III grant initiatives for five years. She returned to the IT Department in 2000 in her current position. For the past two years she has served as Finance, Student and Technical Support Leader for the implementation team of Banner, the College's new administrative information system for students, finance and human resources.
"One special person on the Banner Team was and is key to its successful implementation," said Sandra Strickland, the College's director of Business Training, in her nomination letter. "Rosalind's expertise, dedication and leadership skills were critical components to the project's success. Her main duty was to provide IT support, but she did much more. She earned the respect of the Banner Leap Team and her fellow co-workers by making sure she understood each Banner module so she could provide the correct IT support and meet all critical timelines."
Strickland added that when team members experienced roadblocks, Hammett persisted until she solved the problems. "She viewed roadblocks as challenges, and with every challenge, she did not rest until she found a solution."
She added, "Her calming assurance put everybody back on track and she always offered an unbiased, diplomatic assessment of the situation to help create a compromise that would work for all."
"I have the utmost respect for Rosalind, her capability, her customer focus and mostly, her drive to step up and get things done," said Howie Roesch, vice president for Business Affairs at the College. "She has repeatedly taken on additional work for the good of the project. She lives our motto of 'How we accomplish work is as important as what we accomplish.'"
"Rosalind exhibits the highest standards of professionalism and quality of work," said Chris Marino, director of Research, Evaluation and Planning, adding that she has attended both functional and technical training sessions, which have included more than 20 three-day long training sessions to cultivate her skills set. "She has been able to do this while maintaining the other ongoing aspects of her job."
Hammett is active in the Anderson community and serves on the Boards of both Anderson Heritage, Inc., and the Greater Anderson Musical Arts Consortium (GAMAC). She also is a vocalist for the GAMAC Chorale and GAMAC Chamber Singers. She is a past board member of the Junior League of Anderson.
She is a member of Grace Episcopal Church where she is soloist and president of the choir.
She began her career at Anderson Investments Inc., where she was office manager for eight years before entering Clemson University where she earned a B.S. in Computer Science.
She and her husband, Lawrence, have two sons, Lawrence and Jacob. Hammett is the daughter of Mr. and Mrs. Roy Jeffcoat, of Anderson.