Tri-County Students Sweep Storytelling Awards at Speech Festival

FOR IMMEDIATE RELEASE 3/31/2006
CONTACT:GREG TONEY, 646-1364
(By Lisa Garrett)

PENDLETON --- Tri-County Technical College students swept the awards in the storytelling category at the 2006 South Carolina Speech Communication Association College Festival held March 25 at USC-Aiken.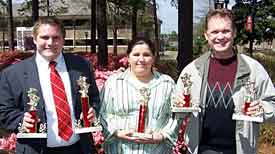 Kristen Whitt, Caleb Carroll and Danny Bryant, all University Transfer majors, took home first-, second- and third-place awards, respectively in Storytelling category. Carroll, of Pendleton, also took home the first-place award in the Impromptu Speaking category. Bryant, of Anderson, also won third place in the Oral Interpretation of Poetry category.
Tri-County was the only two-year college to compete in the annual festival. The categories included: Extemporaneous Speaking, Storytelling, Persuasive Speaking, Impromptu Speaking, After-Dinner Speaking, Prose Interpretation, Duet Acting, Solo Acting and Poetry Interpretation.
"I'm thrilled with the results," said Greg Toney, speech instructor and forensics coach at Tri-County. "Our students worked very hard in preparation for the competition. It's admirable that they can juggle multiple priorities, such as family and work, and still excel in the classroom and in extracurricular events."
Toney added that participation in competitive forensics develops communications skills which consistently rank as the single most important attribute for future employees in any company. "They are developing skills they will use in their personal and professional lives for the rest of their lives," he added.