W.C. English Foundation Named Tri-County's 2006 Philanthropist of the Year

FOR IMMEDIATE RELEASE 11/21/2006

CONTACT: DR. LISA MCWHERTER, 646-1807
(By Lisa Garrett)
PENDLETON --- Because of the generosity of the W.C. English Foundation, more than 65 Tri-County Technical College employees have grown professionally through participation in and presentations at seminars and conferences, along with enrollment in advanced course work.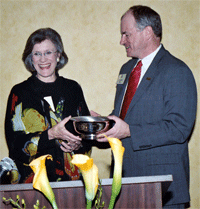 Cathy Ford, coordinator of the College's evening Nursing program, was among those who received funding from the W. C. English Professional Development Mini-Grant Program through the College's Foundation to attend a conference designed to keep faculty up to date with changing technology. Ford attended a human patient simulator conference last year and is scheduled to attend that national conference as a presenter to share with colleagues what she learned through demonstrations with the department's newly acquired pediatric simulator.
"The funding you provide impacts the lives of students, faculty and staff. I'm convinced you're helping Tri-County to move closer to being the role model for community college education that we envision it to be," said Ford.
Ford spoke at the College's annual Foundation dinner meeting where Suzanne Morse, a trustee of the W.C. English Foundation, accepted the Philanthropist of the Year award given by the Tri-County Technical College Foundation Board of Trustees. "My Dad would be pleased to receive this award," she said of her father, the late W.C. English, an astute Virginia businessman who started English Construction Company in 1939 and today is one of the largest construction firms in western Virginia. He also established W. C. English, Inc, a general contracting firm.
"He was a strong supporter of education and would be excited to see your faculty better themselves through education," said Mrs. Morse, who represented her family in accepting the honor. "It's so gratifying to see people who have passion for what they do. They are better able to meet the needs of the students and to do a better job."

Mr. English was a wise financial manager, an estate planner and a strong believer in the religious principle of tithing. He could see the tax advantages of gifting his money to benefit the causes he believed in, and to accomplish his beliefs and purposes, he established the W. C. English Foundation. Seventy percent of Mr. English's estate went into this private foundation at the time of his death in 1995.
Today, the W.C. English Foundation is supporting his causes and those of his wife, Louise T. English, of Altavista, VA, and his four daughters, Joan Allen, of Fayetteville, NC, Beverley Dalton of Altavista, Margaret Lester of Martinsville, VA, and Mrs. Morse, who resides in Pendleton.
Mrs. Morse's belief in and care for Tri-County Technical College led to the establishment of W. C. English Professional Development Mini-Grant Program at the College in 2003. Since that time, the W. C. English Foundation has donated a total of $52,000, qualifying it for the College's Wall of Honor, a wall reserved for individuals, companies, and foundations who have contributed $50,000 or more cumulatively to the College.